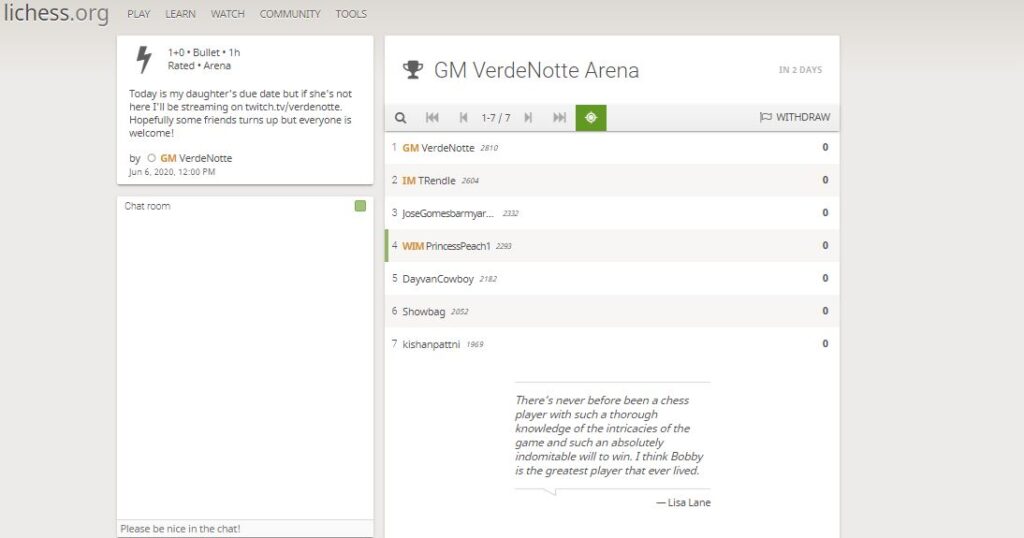 To branch out and have different content for my stream I've decided to host a 1 minute arena tournament on Lichess to celebrate my daughter's due date on Saturday the 6th of June. She hasn't arrived yet and I'm hoping I'll be able to play and stream during the tournament, but obviously if she's punctual it'll mean I won't be able to play. I don't think my fingers could handle playing on the iPad and Sue probably wouldn't be too impressed.
I accidentally created a tournament last week when I was testing how I would play my match against Nils on Lichess. 78 people signed up to play so I thought why not create an arena tournament and see who shows up…If you haven't yet watched my stream against Nils, you can currently rewatch the stream here on my twitch channel.
Everyone is welcome to play – there's no rating or title requirements nor are there any prizes – just playing for your fun and your ego. I've invited several friends to join in so hopefully, it'll be a entertaining tournament. It'll be one hour long and here's the link for the GM VerdeNotte Arena. Feel free to play in the tournament, invite your friends to play, or watch my stream on twitch if playing 1 minute isn't for you. I'm hoping to have a legendary GM as special guest.
It's normal arena rules so you can berserk if you wish and it's an arena scoring system which means:
How are scores calculated?
A win has a base score of 2 points, a draw 1 point, and a loss is worth no points.
If you win two games consecutively you will start a double point streak, represented by a flame icon.
The following games will continue to be worth double points until you fail to win a game.
That is, a win will be worth 4 points, a draw 2 points, and a loss will still not award any points.

For example, two wins followed by a draw will be worth 6 points: 2 + 2 + (2 × 1)
Below was a fun game I played last week. Most of my recent chess work has been writing my Quality Chess series. This is one of the ideas I'm offering for White. Here it worked extremely well, although checking my notes, I should have played 10.Qh5. Still, I think the game was high quality for one-minute chess!
You can find the game here.