NB: I wrote this on the 8th of May but Gawain hasn't yet proofread it.. so now I am attempting to 🙂
So last week, my team captain Paul Townsend sent me an email saying he did some calculations and thought that I was on for a WGM norm. Ga & I were walking back from the supermarket at the time and I actually tripped over while reading the message (Note to self, do not walk and read messages on your phone at the same time!). I was pleasantly surprised though as I knew I was doing well with 4.5/6 but I didn't realize that I could make a norm.
White Rose played Guidlford on the Saturday afternoon and Roger Emerson (Gawain's captain) sneakily didn't send out his team list but we managed to figure out with a bit of guesswork who I would be likely to play. My team captain suggested I play on board 7 instead of 8 as playing a GM of 2550+ (instead of GM Ety Stefanova) would give me a higher average rating. My last week had been quite busy, we spent a lovely Easter break in Bergen, Norway (Ga staying 1 night at home coming from Dubai before we flew out to Bergen) and though I had been reading Rook vs Two Minor Pieces by Espen Lund (a pdf) the week before I hadn't had any time to work on my chess. Our very good friends Bill & Maria from New Zealand are now living in London for the next few months. Bill is the current Editor of the New Zealand Chess Magazine.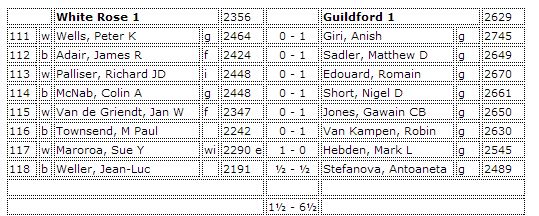 I had a great season as I got my first IM norm and a WGM norm (subject to confirmation). It's probably my first ever norm as I won my WIM title in a Zonal & before that I got a WFM & WCM for performances at the Olympiads.
I played Mark Hebden on the Saturday and though Gawain helped me with some opening preparation he forgot to tell me what to do against 5…Ne5 & Ng5.
During the game, I was very nervous and was aware that I wanted to put Mark away and not let him out of my grip. At some point Anish Giri looked at my position and smiled at Gawain so I thought I can't be doing so badly! Beating Mark put me in a good position going into the final two rounds. I needed to get 1/2 for a WGM norm and 1.5/2 would get me an IM norm. That evening my team White Rose headed out to Monks Kirby. This year the 4ncl has always been at the same venue. As I'm so picky with food, we've ruled out quite a lot of places but I was impressed with the Denbigh Arms.
Sunday morning, I faced WIM Natasha Regan for the 2nd time in this tournament. I don't think playing her twice should affect my norm as I wasn't counting her as one of my titled players and it was because she played in Barbican 1 the first weekend and I now faced her again as we now played Barbican 2. We had the position after move 14 on Gawain's computer and his final analysis was winning for White. Unfortunately I started to err when my pawns got on the 6th rank but luckily for me it wasn't a losing move. On Monday, I needed to draw/win with a 2232 for an IM norm or play a 2284 for a WGM norm. I managed to draw in an Exchange French with Veronica Foisor. Gawain had a great weekend with 3/3! Here's his game against Viktor Laznika.
Guildford had a great weekend (though I think I had Roger worried when he was behind WGHK after I beat Mark) and they ended up having draw odds for the Monday grudge match against Wood Green.
It was a  fantastic end to the season for Guildford, beating Wood Green,  who averaged 2647. 6-2 was incredible. We would like to thank Roger Emerson & Nigel Povah for their brilliant captaincy and for bringing together a team that has a balance of a very strong team and also good social side. Gawain continued his typical run with 7.5/9 including 5 white wins!