Hello again everybody. On June 1st I headed off to Greece to do some work and only got back yesterday evening. It was hard work but enjoyable and hopefully it'll come in handy. I only got out a couple of times but I managed to see a few sights.
Shortly after arriving we went for a walk and saw the area most of us think of when you think Athens – that's right, The Acropolis! Unfortunately I didn't have the camera with me so you guys won't be able to see a picture but you can always google it! Considering I was going to do Classical Civilisation at university, it was quite exciting to see such an icon of Greece's glorious past.
Other highlights of the trip include going swimming in a beautiful cove, below. Less than 30minutes away from the centre of Athens, this is a great relaxing place to swim and admire the view.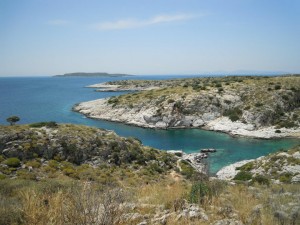 Thursday I went exploring and to the Benaki museum. An interesting museum with the ground floor starting with the Classical Hellenic period and moving forward in time on the subsequent floors. It also has a great café where I grabbed a beer and sat out on the patio on the second floor soaking up the sun.
I also spied the Olympic stadium, built for the Modern Olympics back in the late 19th century. Built right next to a really busy road and currently being renovated, it was hard to get a good photo but here's my attempt.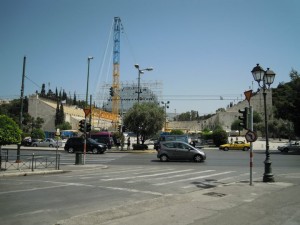 On the way back I walked past the Presidential buildings. A slightly surreal experience as there was a roadblock (which pedestrians just ignored) composed of a riot police bus, a reminder that Greece is currently going through financial hard times. Outside the important buildings were the Greek soldiers in their traditional dress.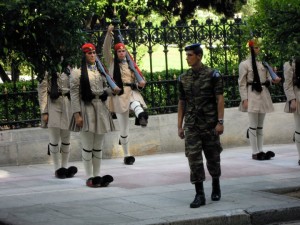 The point of focus near where I was staying was the following church. Quite an impressive building, built around 60 years ago I believe, it looks hard to miss and yet if anyone knows my sense of direction it won't surprise you that I managed to get lost in the 150metres from the apartment to the church, doh!