Well it's been a week and so I decided it was time for a write-up about the British Championships overall.
Before I get into too much depth on that I should say a few words about my last round. I realised that there was a possibility that there was no difference in the tournament standings between a win and a draw (should Adams and Short both win and Wells defeat Hawkins) and therefore going for broke from the start would be rather foolish. I chose to play the Rossolimo and an interesting strategic battle ensued. I allowed him the bishop pair but in return he had a hideous pawn structure and I think I must have had a definite advantage. After lots of manoeuvring the top three boards had finished in draws and I realised I had a chance at the title!
Nick, however, defended well and I over-pressed and after around 130 moves I was completely lost. The game had been going for over 7 hours and we'd been playing with just a 30second increment since move 65. We were both exhausted and it wasn't surprising that we made some errors. Suddenly Nick blundered twice and I was winning! However with just a minute on the clock I couldn't find the right way to exploit his inaccuracy and draw. Probably a fair result and I'll have to wait till next year for another attempt at the British title to join the Commonwealth.
Saturday morning Nigel and Mickey met in the playoff to decide the title. Nigel had White in the first and opted for an English which became a sort of Queens Indian Defence (a Tony Miles' Bf4 according to Tom Rendle) and was rather tedious if truth be told. In the second Nigel, rather ill-advisedly, played the 4…Nf6 Caro-Kann. Black accepts a structural disadvantage but the positions are double-edged. Nigel has had great results in this line but against weaker players and this played right into Mickey's hands. White kept complete control and masterfully exploited the weaknesses in Black's camp.
Hence Michael Adams retained the British Championship title and can continue to claim the number one spot. I'm sure he would be first to agree that his games weren't all completely convincing but a true mark of a Champion is not the quality of their games when on top but how well they can cope when everything isn't quite ticking.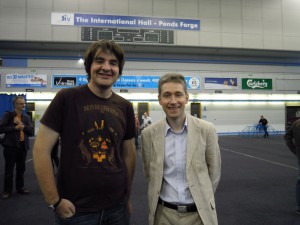 Game of the tournament was awarded to Nigel for his victory over Jonathan Hawkins. A rather odd choice in my eyes, Nigel did well to create some life in a game in which Jonathan appeared to play for a draw but opposite coloured bishop endgames aren't really the most thrilling. In my next update I'll focus in on some games which I thought were more interesting, one of which must be Nigel's game against yours truly.
Before signing off with this update, I'd just like to thank CJ de Mooi for all his efforts in creating the strongest ever British Championships. Not only did he pile in a lot of his own money into the event, but his tireless support and the hundreds of hours of his own time he has put into being President have really helped the game in England.
The controversy at the prize giving was unfortunate – I won't go into details here but if  you want more details I'm sure you can google it, but in my view CJ was free to wear what he pleased as long as it wasn't offensive. Perhaps in a perfect world one could argue everyone should wear a suit and tie but then the players and arbiters should have worn that for every game and when arbiters are volunteers who give a fortnight of their time for very little, while most players are paying out of their own pocket to play that really isn't viable.
CJ wore a t-shirt with the slogan "Some people are gay – get over it". This is the slogan of the Stonewall, a charity for gay, lesbian and bi-sexual equal rights. CJ feels very strongly on this matter and after all his effort I think he should have been allowed to openly support this charity. Unfortunately English Chess has a habit of shooting itself in the foot and offending someone who has helped so much is very foolish. Perhaps CJ over-reacted a little and the matter was blown out of proportion.
Now I don't want to open the whole topic again but I read the blog of Steve Giddins (http://stevegiddinschessblog.wordpress.com/) who criticises CJ unduly and I would like to reply as someone on the scene and one of the country's top players.  He writes that the t-shirt had "an aggressive, 'in-your-face' slogan printed in large letters on the front".
Now I was there and didn't notice the message (and neither did Sue who was spectating) until CJ came over and explained the matter. He also writes that it was an "overtly political slogan".  Now to me that implies that the slogan is a debatable one. Actually I thought that these days such a statement was self-evident but as Giddins proves this evidently isn't the case and therefore more reason for CJ to wear it.
Hopefully all parties can forget it and move on. I'm very glad CJ was given a vote of confidence by the ECF and I hope he'll continue to help our cause, I know that without him the chances that any of our top players having played this year was rather slim.
Look out for my new twitter account 🙂
P.S Sue apologises for her semi cryptic message from the closing ceremony! She was using a new phone and "swyping".