At the moment, I'm in LA enjoying the sun. Today I went to Manhattan Beach and had a chipwich. What is that you might ask – another great American invention!
Gawain on the otherhand is hard at work in Bunratty, Ireland defending his title. You can read his report on last year's tournament here. This year there are 8 Grandmasters in the field including Wesley So the World Number 8. It might be harder to defend this year as I've also heard that Wesley doesn't drink :-). You can watch the live games on their official website or on chessdom for the mobile users.
Alongside the Bunratty Masters, is the Bunratty Classic which is a GM norm round robin. It features some great players on and off the chess board including world renown commentators GingerGM Simon Williams & IM Lawrence Trent. Other names that stand out for me are the Thorfinnsson brothers Bragi & Bjorn from Iceland.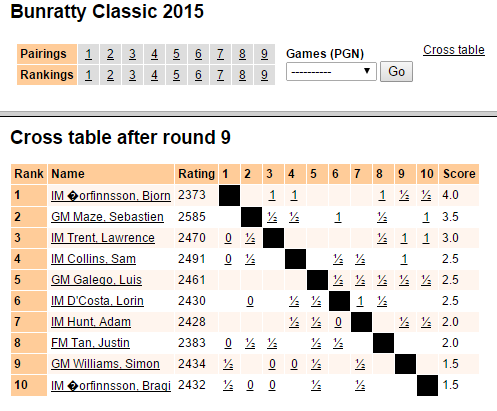 Bunratty is a great tournament to play in! Even for the non drinker like myself. It's got a very nice vibe about it, 3 rounds a day is very tough but luckily it's a non FIDE rated tournament so you can play for fun! I feel like that the Blitz is sort of the "main event" (not really) so winning that is something of importance. It's a very relaxed tournament with lots of strong players and drinking. There is even something for the chess wag – an onsite beauty shop with great massages and manicure/pedicures (I can highly recommend them) and a small tourist shopping center nearby (which won't break the bank). There's also of course the castle to visit.
Gawain's mum Tanya is playing as well so I wish her the best of luck!