Happy New Years to all our readers (if there are any of you left). We have just flown back from St Petersburg, Russia – where we both participated in the World Rapid and Blitz, Gawain in the Open section and I was able to get a wildcard into the Women's Section.
The tournament itself ran very smoothly considering it was announced very late. Getting the Russian visa was more straightforward than we feared and filling in the form didn't take as long as I thought it would. The questions are fairly standard until you get asked "Have you travelled overseas in the last 10 years?" and I just thought, oh no – I'll have to find out all the places I've been. Luckily, there is a limit of 10 entries so I didn't have to trawl through my emails to find various trip details.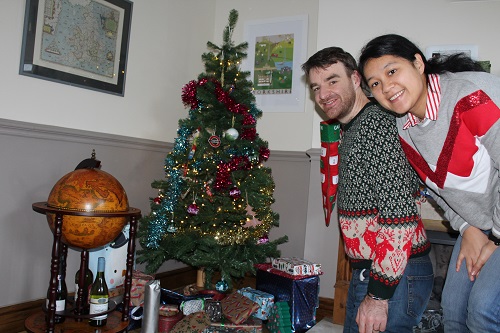 We celebrated Christmas early as the tournament was from the 25th-31st December. In Russia, Christmas is celebrated on the 7th January so it was still very Christmassy. We decided to go a day early, to acclimatise and also do some sightseeing. St Petersburg was a fantastic city to visit (our only other experience of Russia has been Khanty Mansyisk), with a rich history, fantastic architecture, world class museums and a very fancy subway. The food was great in all the places we ate and people were so friendly. I would highly recommend visiting St Petersburg even in the winter! We did a tour with a private tour guide who's an old family friend of Peter Svidler  (also from St Petersburg). It was a great way to gain a glimpse of the wonderful city and we were very lucky with the weather.
Tournament wise, you could definitely say that we could've done better but I managed to avoid the bye in both tournaments, although I played on the bottom board in the last round. Playing in the Rapid tournament, I wasn't sure how my tournament would go and it felt like a very fast rapid time control to play. My goal was to win every day and I succeeded! There may have been a terrible game or two (one where I was 2 pieces up and managed to lose) but in this time control, you can't hold on to your losses. You really need to move on and play your next game. In the blitz, I won 5 games but in one of the games I struggled to convert (and lost) after being a piece up out of the opening. It was a great experience to play in Russia and I hope I'll be able to play again an do better next time.

What do chess players want to do after a tournament has finished? (Ok… some drinking) but some wanted to play even more chess! Gawain had a 1 minute game against our Munich SC1836 team mate GM Alireza Firouzja and unfortunately youth prevailed over experience!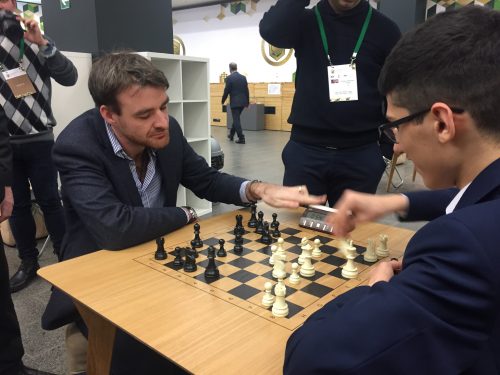 Our time in St Petersburg, would not have been the same without IM Carlos Perdomo from Columbia and GM Pontus Carlsson from Sweden. We spent many hours drinking "Very Happy Cider" and eating good food!
On the last evening, we were eating in an Italian restaurant on the main street Nevsky Prospekt when a girl at the table next to us said "Excuse me, are you Carlos Perdomo?". Funnily, he had taught her at a chess camp 12 years ago (!) and they hadn't seen each other since then. What a small world!
After 12 hours of travel yesterday (31st Dec) and we couldn't stay up to see in the New Year – we promptly fell asleep at 9pm and then slept for 12 hours. This morning, we decided to go out for a cycle and a walk at the Damflask Reservoir then finish of our outing with a pub lunch.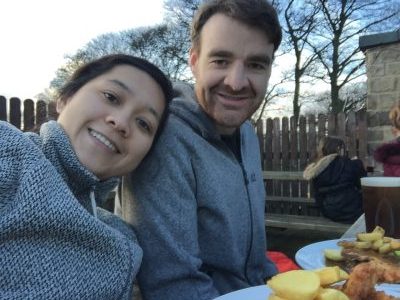 2018 has been a great year for Gawain and his chess. He's currently at a peak rating of 2691 and World Number 49 and aiming to crack that 2700 mark. He came 2nd equal in the European Individual Championships and 3rd equal in the Chess.com Isle of Man Masters, the strongest open tournament in the world. He finished the year with winning the British Knockout Championships. I, on the other hand am now working at Sheffield City Council and am still playing rugby and chess.
The calendar is looking very full with leagues and we will both be playing in Reykjavik in April along with some friends from New Zealand.