Thursday evening we headed over to Heathrow for a flight to Keflavik, Iceland. The flight was a little delayed and, with very windy weather over Iceland, very bumpy but we arrived safely and were at the hotel by 2am Friday morning. Simon Williams was on the same flight but couldn't make it onto the bus to Reykjavik as it was completely packed but somehow was at the hotel checking in as we arrived! Red hair evidently gives you an advantage in Iceland.
We spent most of Friday asleep but in the afternoon we were picked up by Thomas, one of our Matar team mates. Incidentally he's a publisher and him and a few others on the team have put together an Icelandic language chess magazine. The team championships were held in Selfoss, a little town around 45minutes drive from Reykjavik. Its chess fame stems from the fact that Fischer is buried in a little churchyard there.
The Championships is composed of seven rounds, 4 in October and 3 this weekend. After 4 games we were in 7th place out of 8 and with two teams getting relegated we were up against it. In round five we were playing TB 2, the B team of the runaway leaders, Bolungarvík. We had to win to stay with a chance and we managed a very respectable 5-3 victory with no losses. I beat Dagur Arngrimsson on top board, an Icelandic IM who is actually the son of one of our second team players. It started out as a Spanish and should probably have been a draw but I managed to put him under some pressure and managed to win a queen and pawn endgame.
Here is the crosstable.
Sue also won and the second team beat the team who had been in 1st place in the 4th division very comfortably 5-1. We drove back to Reykjavik through the stormy weather for a few hours at the hotel before an early start on Saturday for round six. This time we had to face a very strong team from the Westman Islands. I played Jon Ludvig Hammer, second ranked in Norway behind Magnus. Again I was White in a 1.e4 e5 opening and he chose the very solid Berlin Defence. I played a slightly offbeat line I had looked at at home and had a tiny advantage. We traded into a rook and pawn endgame that really should have been drawn but again managed to use the clock to my advantage and converted. My teammates were amazed and the game actually appears in the new Icelandic Chess magazine they've just published. Unfortunately the team didn't do so well this time and we lost 6.5-1.5.
A quick pit-stop for lunch at a café that specialises in burgers and pizzas, in particular the odd Karlsson pizza, a pizza with fries, beef and béarnaise sauce!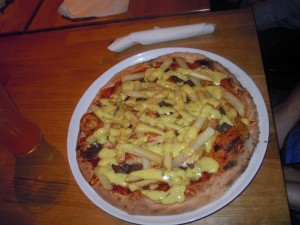 Doing the maths we found we were 2.5 points behind TB B and 4.5 behind Akureyri. However we were playing the bottom side Fjolnir who were already relegated and so we had a chance. Akureyri actually lost 8-0 to Hellir (Simon's team which we had held to a 4-4 draw the first game of the season) and TB B lost 6-2 to the Westman Islands team. Therefore 4.5-3.5 would leave us tied with both teams and ahead of TB B on the second tiebreak of match points. On top board I drew with Hedinn Steingrimsson with Black after a lot of suffering but unfortunately we just didn't quite manage it. A 4-4 draw and we ended up getting relegated by half a point. The team were a little upset but I'm sure we'll bounce back and win the second division next year. A very good effort by all the players to be so close.
However Matar did have something to celebrate. Sue was successful in both games on the Saturday (despite having a truly horrible position in the second game!) and so finished on 4/4 for our second team. We managed to win both matches by the narrowest of margins with 3.5-2.5 (important in the fourth division as it was decided on match points – 2 points for a win, 1 for a draw, unlike the top division which was board points) and therefore won the division and the right to play in division three next year.
We travelled to the prize giving to pick up their trophy and medals in one of the more unusual venues for a prize giving – a Sports Bar with very loud music! I've just finished playing the Reykjavik Open and will update about that as soon as I can. I'd like to thank the whole team for their helpfulness and generosity. It has been a real pleasure meeting them and playing for their team.