I left you on Wednesday with the completion of the Reykjavik Open. We went out for a nice meal at Gandhi, an Indian restaurant (obviously) followed by a few beers in the English Pub and Obladi-Oblada, a bar with three chess boards and clocks which were obviously used for some wind down blitz.
Thursday was a day to recover from the tournament and then on Friday back to more chess with the final three rounds of the Icelandic League. My team from last year, Mátar merged with Goðinn to create Goðinn-Mátar. Feel free to check out their blog, but be warned it is in Icelandic.
The venue was again Harpa, always a beautiful venue. The games started at 8pm and unfortunately a big concert started at 10pm so it was rather noisy. 8pm feels quite late for a FIDE rated game, especially with two rounds on the following day and with the Icelandic League becoming so strong perhaps this should be revised. Many of the top players stayed on after the tournament including the victor Pavel Eljanov while other strong players flew in just for the league: Alexander Areshchenko, Jan Smeets, Tomi Nyback etc.
We had played the first four rounds in October and did very well, defeating three teams, and so we thought we should be safe from relegation. Strengthening our team for the last few rounds were John and Nikolaj Mikkelsen, a Danish IM who is a fellow team mate for Philidor in Copenhagen and played for Mátar last season.
In round five we played the extremely strong Víkingaklúbburinn with GMs on the top six boards. I had Black against Eljanov who continued his strong form from the Open, defeating me fairly easily He played a critical line and I was a bit worse. Not liking my position I allowed him to advance a  pawn down to c7 but hoped my activity would compensate. However I missed a tactic and was forced to give a piece for two pawns. I struggled on to move 56 or so but the result was never in doubt. We had some decent positions but, perhaps due to the swift time control of 90min+30/m for the entire game, let them slip and went down 6.5-1.5. In the car back Einar, John and I were a little disillusioned with our 0/3 but promised to do better the following day!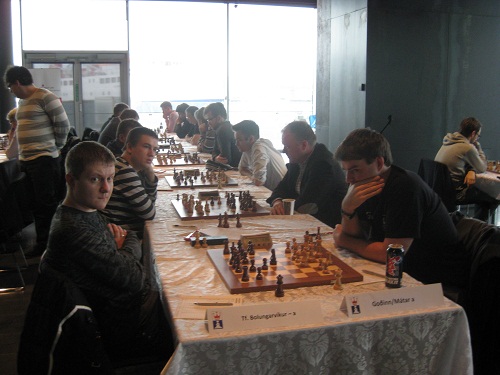 Saturday morning at 11am we were back, rather bedraggled, for round six. We had another very strong team to face: Taflfélag Bolungarvíkur. They were the reigning champions and weren't about to give up the title easily. Another team with GMs down to board six but this time we gave a far better account of ourselves. I managed to defeat Areshchenko on board one, who, at 2720, is the second highest rated player I've ever beaten. I was especially happy as this time it wasn't merely due to my opponent over pressing and I was better throughout. With four of our other players drawing we were content going down 5-3. With around 90min at home between games we had a quick lunch, quick nap and very quick prepare for the final round. On paper this was the easiest of the weekend but with five GMs Taflfélag Vestmannaeyja were still very strong opponents. We were strengthened with GM Helgi Ass Gretarsson playing his first chess game in a while. Helgi actually went to New Zealand recently and stayed with our friends there so we have connections on both sides of the world! Throstur agreed a quick draw on board two and so I didn't feel so bad about offering a draw a few moves later to Finland's top player, GM Tomi Nyback who, after discussing with his team captain, accepted. A win by our host Einar helped us draw 4-4, a very creditable result. The second team topped the second division and so next year Goðinn-Mátar will have two teams in the top division! You can see most of the results at Chess-Results.
The following day Einar took John and me for a hike followed by bathing in a warm river. Einar showed his wilderness skills boiling up some hot dogs for us further up the river, a unique experience.
The walk there felt like a nice Spring day, sunny and relatively warm but as we left the river everything was blanketed in snow. My hair and trousers froze and only defrosted when I was back at Einar's place!

I concluded my time in Iceland with a pleasant day out with Jón who took us around Reykjavik, showed us where the president lives, took us to the Pearl and for a very pleasant dinner. I'd like to thank all the Icelanders who made this such a pleasant time for the whole two weeks especially Einar and Hannah for their exceptional hospitality; they have their apartment back to themselves now, and Jón for a couple of very pleasant dinners, orchestrating the whole trip and ferrying me around and a book on Icelandic wisdom. I hope to be back again very soon!