I left off the last report after four rounds when I had drawn every game but the team was on a very creditable 3.5/4 (or 7 match points). Round Five we were paired against India, another very close match. I had White against Pentala Harikrishna and decided to surprise him with the English. The game quickly transposed into a Nimzo Indian and Pentala chose a sideline I hadn't looked at in the morning. The queens came off straight away but I drummed up some initiative at the cost of a pawn. Just before the time control I had the option of repeating and perhaps should have taken it as I had to grovel in a rook and pawn ending a pawn down but was never in any real danger.
As with the match with France all boards ended up being drawn and another 2-2 draw. Round Six is where the Olympiad started going downhill for me, and perhaps the team too. Paired with Italy we were hoping to win to put pressure on the leaders. On paper we were favourites, despite Italy's top board Fabiano Caruana. I was paired against the very solid GM Michele Godena. I tried an interesting pawn sacrifice in the opening to prevent the game becoming too dull and got decent compensation but then over-valued my potential and, in a position where I should have been looking to draw, I got too optimistic and ended up blundering the exchange and with it the game. Thankfully Nigel got back to winning ways, thanks in no small part to his opponent Sabino Brunello completely collapsing, and another 2-2 draw was on the cards.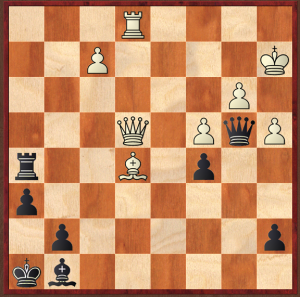 Here, with the exchange sacrifice 47…Rxe5! Black should have held the draw but instead following 47…Qd2+? 48.Bb2 Qxf2? 49.Qg6 he had to resign as 49…Qf7 fails to 50.Bxg7+ and 51.Qxh5.
Round Seven saw us play Georgia and me get White against a lower rated player (still a 2578 GM) Merab Gagunashvili. The team was performing decently over their rating and so we knew that they were no pushovers. I had a big advantage out of the opening but spent too long trying to find a win and in time trouble my advantage decreased and even felt a little fortunate at the end that Merab was happy with a draw. Mickey agreed a comfortable draw with Black on one and again Nigel came to the rescue. The game wasn't too dissimilar to his previous game in fact and in an equal endgame his GM opponent felt apart completely and soon blundered a whole piece. David was pressing with Black on bottom board too and almost over pressed but thankfully held on and we won our first match in five days (including the rest day).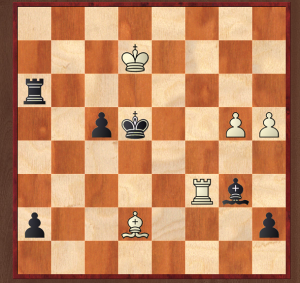 White is already in difficulty but 42.Rc4+?? didn't help as after 42…Kd5 he can't defend his bishop from 43…Re3+.
The next couple of rounds were an Asian nightmare for us. First up we were paired with the low rated but high perfoming Philippines. It felt that Mickey was somewhat better but Wesley So held the draw. I repeated the line with which I managed a draw with Fabiano Caruana in the European Individual Championships and felt I should have been ok but slipped into an unpleasant endgame. I lost track of the game completely and by the time control was completely lost. I fought on and, with my opponent showing a complete lack of technique, actually got a fortress two pawns down but blundered again and lost. At least that didn't change the match result as Nigel had made his first slip-up of the tournament, losing with White to veteran Eugene Torre while Nick had only drawn on bottom board. A very disappointing 3-1 defeat.
I was rested for round nine so that I could recover and try and do some paperwork necessary for Sue's visa but unfortunately the team fared no better without me and lost 3-1 to Vietnam with Mickey and David both losing with Black. I'm sure someone could have a look at the statistics and let me know what our score with Black was this Olympiad – it must be dreadful!
I came back in in round ten against the lower rated Uruguay. We got back to winning ways with a resounding 4-0 win with mine and David's opponents seemingly in a race to see which could lose first. With White my opponent went straight down my preparation and was at least a little worse before he missed a cute tactic and totally collapsed.
Here Crosa Coll has just played 14.Ng3 overlooking the point to my previous 13…Qa5.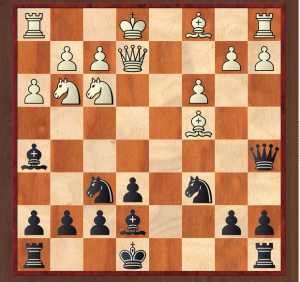 David's meanwhile played a …Nc6 French Tarrasch which isn't known for quick losses. Black is left with an IQP and has to suffer to take the half point. However we were very glad when he simply blundered a piece on move 17 and resigned.
Into the last round and we needed a win to salvage a decent placing. Luck was not on my side when the team got another double White meaning I would finish with 7 blacks and just 3 whites. To make matters worse for me we were playing the Czech Republic with the highly erratic genius David Navara playing on board two for some reason. The rest of the team were losing rating points but David was on a mammoth 8.5/10 after 5 straight wins over GMs.
He chose an early h3 line against the Kings Indian which is highly topical at the moment. This caught me a little off guard as he had not played it before. I haven't checked the game in detail yet but think he played a very good game and I was suffering and I eventually went down. With the team winning 2.5-1.5 anyway, thanks to wins from David and Nigel, I wasn't feeling too disheartened until I put the game onto the computer and realised I'd missed a drawing motif in the rook and pawn endgame just moves from resigning.
Here David has just played the careless 55.Rf7? and suddenly I can draw. However I was too disheartened to analyse properly and lost quickly.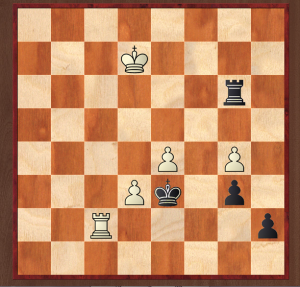 The team finished in 9th= but unflattering tiebreaks put us at 17th. As we were 11th seeds that was a little disappointing but hardly terrible and had we taken out our two rounds of misery in rounds 8 and 9 then it would have been a very positive Olympiad.
For myself, however, the tournament was rather disastrous. =6 -3 +1 against an average some 50 points behind me was very costly to my rating. However I can take solace from a few things; first of all the visa situation didn't help with Sue unable to come and having to do as much as I could to help out with documents, particularly once the application had been rejected and we had to file an appeal as soon as we could. Secondly, on board two I was playing strong players and, with seven blacks and three whites it was always going to be tough. I wasn't on form but at least I still managed to be a fighter, saving dodgy positions in rounds 1 and 3 and missing draws in my losses in rounds 8 and 11 after having had completely lost positions. My other loss was a case of over-pressing in desperate need for that first win, an occurrence that happens from time to time.
Hopefully we'll have sorted the visa problems soon and I promise you I'll be back fighting in time for the London Classic!