Thursday 22nd of March at 10pm was my flight time from Heathrow to Kuala Lumpur. I had booked my ticket in December with air miles (thanks to me flying from here to NZ), I got my flight for £350 (which are just the taxes). It was a bit touch and go whether I'd actually make it, but thanks to a few chess friends I managed to get my passport plus biometrics permit in time. I'm not completely sure if I should tell my story but if anyone needs any help in regards to immigration please feel free to message me. In the end after a lot of hounding by me and a few trips to 3 UKBA offices I managed to get somewhere. I also laid the pressure on my MP who actually got an answer from the CEO saying my case will be done by Date X which it was. It's been such a mission and I hope none of you will ever go through the trouble we did.
Anyway, back to the holiday. Flight was okay,extremely packed and sat next to an older (45+) couple who had never been on a long haul flight. They seemed confused by everything. Quite nice nevertheless, though the wife wanted to fly Qantas but shut herself up after her husband pointed out it was triple the price. Touchdown in Malaysia and guess where I headed? Yes, to the choccolate store to pick up my Whittaker's fix. If you guys have never tasted this stuff, you are really missing out. I could eat a block of Almond Gold very easily in a day and Gawain loves his Creamy milk.
Then it was dinner time, I couldn't stomach dinner on the plane. I ordered a oriental vegetarian meal and I got some sort of strange tofu thing. On the ground, we headed to have Char Kuey Teow. It costs RM4 a plate and was delicious! Then it was saying hi to everyone, exchanging gifts then finally trying to fall asleep. I slept awfully, the weather was hot, the bed was hard and I was starving. My family live in Sungai Pelek and they own a Kopi tian which is effectively a coffee/tea/breakfast store. Breakfast is normally made of mee (homemade noodles with special sauce, pork and vege), nasi lemak (tradionally malay dish) or bao. I had mee and bao and milo ice most days for breakfast. But I had to wait until 5am to be able to eat! This meant reading/playing on my iPad for a couple of hours until everyone was awake. Once I ate and was full, I went back to sleep. Not the healthiest of habits but I thought it'd only last a couple of days and I was sort of right.
Getting into a routine when the weather is so hot is kind of hard to do and I guess I was also enjoying my "holiday". We did a few things, being the holidays my Aunt was around so we did the obligatory shopping where I spent RM500! Not £500, for RM 500, I got a pair of jeans, a pair of shorts, 3 t-shirts, 3 dresses and I even got change!
I did a minitrip with Xiao Jiu Mu((This means, she is my Mum's youngest brother's wife NB everyone has name so you know who side they are on), Er Jiu (Mum's second eldest brother) and Er Jiu mu (Mum's second eldest brothere's wife)to see my family's palm oil plantation. I slept most of the way up but arriving there it felt so peaceful. It was kind of strange to get away from the hussle and bustle of life and really pleasurable. We saw some Malays fishing in the stream with just a basic net. Quite impressive.
On Wednesday 27th we started our roadtrip that would end in Penang. We aimed to go to Sungkai Hot Pools ( I didn't know they had hot pools here!) and stayed overnight with my cousin before driving up to Penang on Thursday.
Sungkai Hot Pools was a strange experience, being 30 degres outside there were lots of warning signs stating you shouldn't be in the pool for longer than 30 minutes which is fair enough. We ended up paddling in a huge hot pool which was more lukewarm before heading to the 40-45 degres pool which took me time to stick my foot in. Initially it felt too hot but after a bit of adjusting I quite liked it. We then headed to the 30-35degres pool which felt too cold before spotting the winning combination of 35-40 degres. Pure bliss! Remember how in the Iceland Gawain had his hot springs hotdog? Well, we had our hotsprings eggs with soysauce. Yum.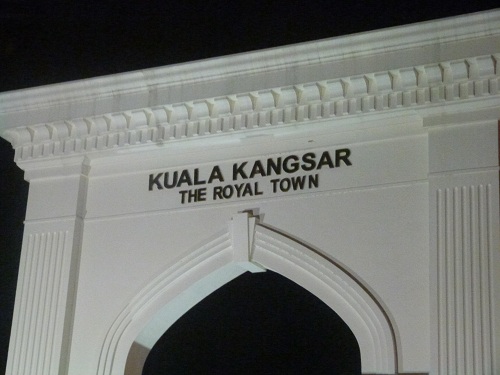 After a long day of driving, we arrived at my cousins house in Kuala Kangsar. A pretty looking town and went for supper which was roti! Yummy and a bargain at RM1!
Next day, we set out early for the final stretch of our journey and arrived in Penang at lunchtime. After unpacking our stuff,we headed out to the Kek Loh Si Temple but before we could walk up we had to have lunch. I went for the local dish "ayam laksa" which is more like a hot/sour soup noddle. I wasn't too fond of that but I loved my fresh coconut water.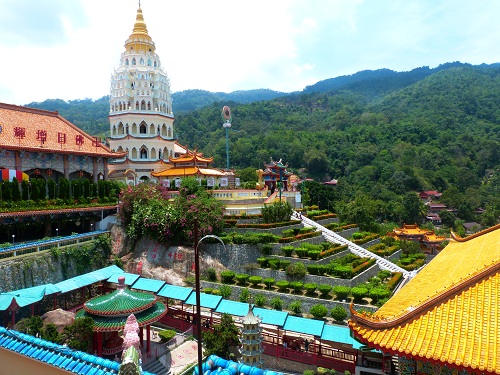 We went to many temples in Penang and strangely shopping malls. Other than the temples we visisted the Botanical Gardens which didn't impress me. There were loads of people exercizing there which is fine but there seemed to be no flowers! I thought gardens had flowers! After going here, we headed to a close by indian temple and took about 600 steps up (I might be exagerating) this was about 11am so it was so hot and once I raced to the top (I was trying to prove to my family though I am "big" i am fit!) I found all these termites lying around. Pretty gross but I managed to not think about it. We weren't allowed in the temple as we were wearing shorts but it was very beautiful.
Penang, was very clean and kind of reminded me of Singapore. I loved visiting the Hawkers store and eating everything!
After this roadtrip, we slowly headed back to Sungai Pelek as we had my Grandfather's eldest brother's wife's 80th birthday to attend. It was a kind of strange family affair and more strange for me seeing as I only speak a little mandarin. They normally spoke in their mother tongue dialect. We had food but there was no cake and I got to meet some distance counsins who loved singing their karoeke albeit somewhat badly. All in all an interesting experience.
The next day, I was going to help my family go and clear up/pray at my Great-grandmother's headstone. This tradition has been going on for our 80 years and it was my first time visiting her grave. I really should've took a before and after picture as we spent 2 hours, clearing the weeds and then of course burning the money and clothes for her to use in the afterlife.
My Xiao Jiu Mu acutally cut herself badly and my first aid experience kicked in. I insisted we tie it up and then stick her hand above her head. She wasn't at all impressed but she survived.
My last day came so quickly and I spent the day taking pictures of the shop and hanging with my Er jiu mu .I'm going to miss them all and I hope to be back soon. I know Gawain was very jealous he didn't get to stuff himself with all the yummy food.