Today is the the day, Round 1 of the Rapidplay! I'm so excited!!! The qualifiers have been confirmed with only 2 players from the FIDE Open getting to 4/4. Istratescu and Sutovsky have now joined Groups A & D respectively. Istratescu played 84 moves to get the full point, but if he had halved out (his was the last game) he would've made it to Group D which is a weaker group but he didn't – maybe he wanted the FIDE rating points, maybe he forgot that the tie break was "highest rated"! So after that 84 moves game he now faces Mickey and Luke as his reward. The first round starting at 14:00pm (local time).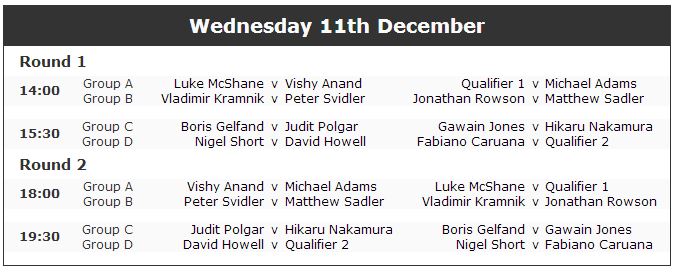 Yesterday, Gawain participated in the Pro Business Club. He was paired with my club mate and (don't groan when I say this Jer) Julian Hogdson's brother Jeremy Hodgson. Jeremy is a solid player, probably a bit too harsh on himself and can at points crack under pressure. I think he's worth more than his rating so I thought him and Gawain made a great team.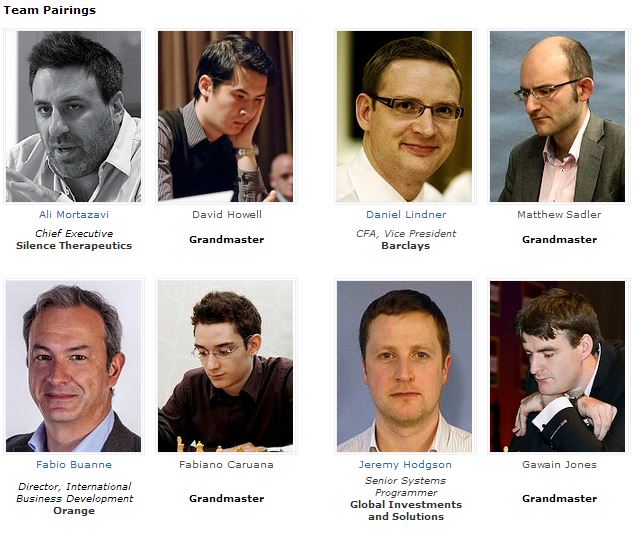 The stand out team there was Ali Mortazi & David Howell (normally in these circumstances you are only as strong as the weaker player is) but Matthew had Daniel Lindner (2200 elo) could also not be excluded out as winning the tournament. Gawain and Jeremy beautiful outplayed David and Ali but in time trouble there was a blunder. You can play through those games here.
Personally, I would love to see braccia-mente (literally arm brains) played instead of alternate moves chess. Braccia-mente or hand brain as some call it, is when you have one  player saying which piece moves and the other player having to move the piece! This normally works when the strong player calls out which piece to move and the weaker player then has to choose where they want to move that piece. When we were in Italy the summer of 2009, Ga & I played against Loz Trent & Stephen Gordon – an great friendship but chess wise I don't think they are very compatable. The amount of times Loz said "Bishop" and every time Ste would move it and then eventually after Loz repeatedly said Bishop, Ste then feeling annoyed moved it square by square until Loz was happy and at that point Ste said "Why do you want the Bishop on THAT square?" Haha – good times in Porto San Giorgio.
So yesterday all the players went out to dinner. It was a nice dinner and the top players are all quite good company. It was strange being in a mini cab with Ga, Jonathan Rowson, Vishy Anand, Matthew Sadler and Fabiano Caruana. I felt a tiny bit outrated but I didn't hear chess often spoken. The question that was asked in the car was what did NN stand for? Matthew came up with Not Known 🙂 My phone was being erratic yesterday but googling it today gives me a clear answer.
NN, for Latin Nomen nescio or, equivalently, No Name, a person whose name is unknown
Btw, spotted in the i Newspaper. The chance to win a masterclass with Jon Speelman! Bidding is currently at £410! The auction finishes tomorrow at 11am to bid go to this link.