We always knew that rounds 6-8 would be difficult. Having Black against Vladimir and Magnus and White against Peter meant getting any points would be nice. Gawain managed to get 1 out of 3 which is a good score from that field and is now on 3.5/8.
In Round 6, Ga faced Vladimir Kramnik and was quickly worse out of the opening when Vlad played actively with 9. e5. Vlad then played an aesthetically pleasing Queen sacrifice but in time trouble strayed from his pleasant advantage and Gawain defended tenaciously to get to a drawn R+B+N vs Q+2P endgame. I asked Gawain why he offered Vlad a draw here but he told me that at any point Vlad could sack a piece for a pawn and have a drawn endgame so he thought Vlad's technique would be good enough to hold.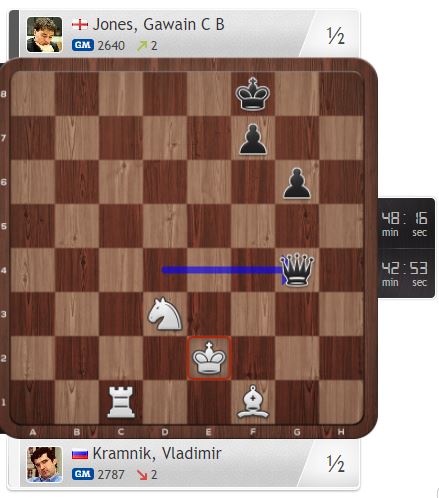 In Round 7 Ga played the anglophile Peter Svidler. The opening was a c3 Sicilian rarely seen a top level but it all fizzled out quite quickly into a drawn rook and pawn endgame.
Round 8 was a big game for Gawain, he was facing World Champion Magnus Carlsen for the 3rd time. This would be his second game against a reigning World Champion, having played Vishy at the London Chess Classic in 2012. Before the game, I asked Ga what would happen if Magnus played 1.e4 and if it would be a Dragon to which he replied "I don't think he'll allow the Dragon". Lo and behold, when I was in the playing hall it became a Dragon. Ga had plenty of time and Magnus was having long thinks which made me wonder if he wasn't expecting this. When I got back to the room. Magnus played 17.g4? which was a blunder. Fortunately for Magnus he had some compensation – strong knight, light squares and Gawain unfortunately quickly erred. It was interesting to see all the positives/negative comments online with people not understanding the difficulties that Black could have in the position. I asked GM Eric Hansen who joined us for dinner "Do you think you would beat Stockfish from that position?" to which he replied an emphatic "No!". Just because the computer says it's winning, doesn't mean you'll win the game. Playing a player like Magnus, who is the world's best practical player in such a position, meant that it was never easy to win. There was a point in the game, after 22…Qb6, where I started to feel like things had gone wrong and then things went from bad to worse in a few more moves.
I'm really proud of Gawain and after the game he was relatively cheerful, he even went to the commentary room to discuss his game.
Jump to 3:55:24 for Magnus commenting and 3:57:54 for Gawain chatting with Eric after the game.
Today is a rest day before Gawain plays Hou Yifan in Round 9 and then we will travel that evening to Groningen to stay overnight before playing Round 10 against Vishy Anand.