There's something nice about being near the sea, though it would be even better if it was summer time! Oh well. This tournament is seeped in history and for many reasons players keep coming back to play in Wijk. It's quite a special place with a great chess atmosphere. The playing hall "De Moriaan" transforms for the duration of the tournament from your average sports hall into a very impressive chess themed room which fits all the professional and amateur players into one big room.
We took a bus from the playing venue in Wijk to the headquarters of Tata Steel for the opening ceremony. When we arrived at the auditorium there was coffee and cake and some time for everyone to mingle. 
Spotted was GM Robin van Kampen, back from Canada to finish his degree before venturing into the work force. He'll be commentating during the event.  I also saw GM Yasser Seirawan, who's here supporting his wife Yvette who is playing in one of the amateur tournaments. He will be back later on in the tournament to commentate.  
Then the Masters Players were all herded together (I helped with the herding) as this year they were going to enter the room "one by one" with Gawain being the first player to enter. It was like some sort of game show where the host, the Dutch stand up comedian Tex de Wit, who is also an FM, announced their arrival with a few quick words about the players. As you can see from the photo there was also a Saxophone Quarter playing in the background.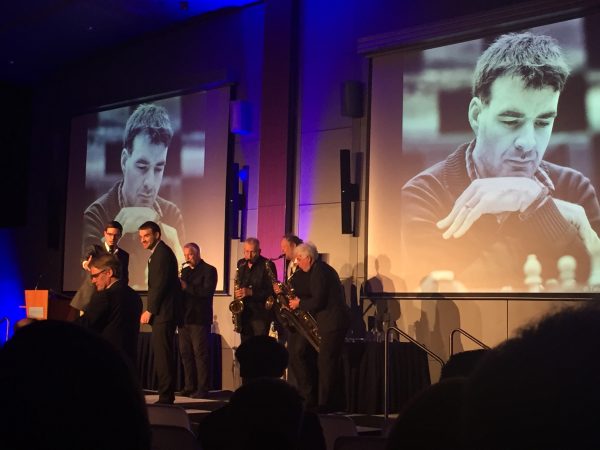 Opening ceremonies vary from short nothingness to long boring ceremonies. I think the Tata Steel Opening Ceremony is one of the more enjoyable experience. For one, they have a pretty good host who spoke in English naturally and even managed to crack a few jokes. The Dutch have a strange sense of humour where you are never quite sure if they are joking or not but they seem to be fun natured. After a few speeches from the Chairman of Tata Steel Netherlands and the Deputy Major of Beverwijk, which is the nearest town, we came to the important part of the event – the pairings! Last year the players had Telstar football tops with a corresponding number but this year their numbers were placed in a film canister, Tex also spoke about the tournament's history as this year is its 80th edition. 
After the ceremony, we headed back into the main hall for drinks, nibbles and I attempted the world's smallest chess escape room. I am pleased to say I managed to escape (with some help from a certain GM).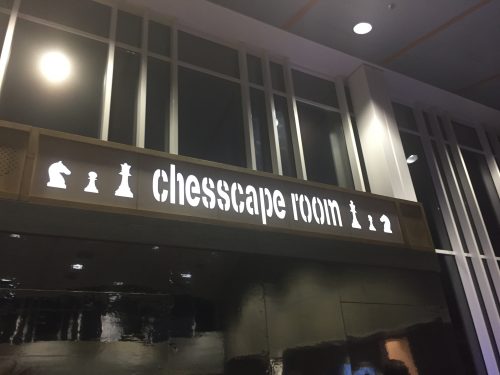 We've done a couple of escape room and those took about an hour to escape. This one you have only got 30 seconds and you need some chess understanding to be successful. I think that the escape room is linked to the festival that will be held here during the tournament. The information is in a leaflet in Dutch but hopefully during the tournament I'll be able to find out more information.
Gawain was last to be picked during the ceremony and ended up with Number 5. This means he'll get 7 whites and 6 blacks during the tournament. Tomorrow he'll be playing World Champion Contender Sergey Karjakin with the White pieces. I'm sure the tournaments pairings will be up soon somewhere but here are Ga's pairings.
Rd 1: White against Karjakin
Rd 2: Black against Caruana
Rd 3: White against Adhiban
Rd 4: Black against Wei Yi
Rd 5: White against Giri (Travel to Hilversum)
Rd 6: Black against Kramnik
Rd 7: White against Svidler
Rd 8: Black against Carlsen
Rd 9: White against Hou Yifan
Rd 10: White against Anand (Travel to Groningen)
Rd 11: Black against So
Rd 12: White against Mamedyarov
Rd 13: Black against Matlakov
There are also 3 rest days during the tournament which is definitely necessary as 13 games without a break would be very tiring. During one of the rest days there will be a basketball tournament. Normally I would be quite into some sort of sports but the last time we played basketball was at the 2010 Olympiad in Khanty Mansisyk against "Team Norway". I think somehow we became "Team World aka Team England"; we lost terribly.