So first I have to post this photo I took while in St. Moritz. Since I was away from work I was unable to play in the Celebration In Memoriam Beer and Blitz which was eventually won by GM Matthew Sadler – it seemed like such a fun event and the first of a few #chessandbeer activities that Gawain would participate in after a tough January.

After seeing so many reports about the 25th Bunratty, I thought it was finally time that I do one for our website. I think it's safe to say that this is one of Gawain's "local" tournaments, as he finished high school in Ennis after coming back from Italy. He spent a lot of time trying to figure out how many years he has played in Bunratty and below are the stats.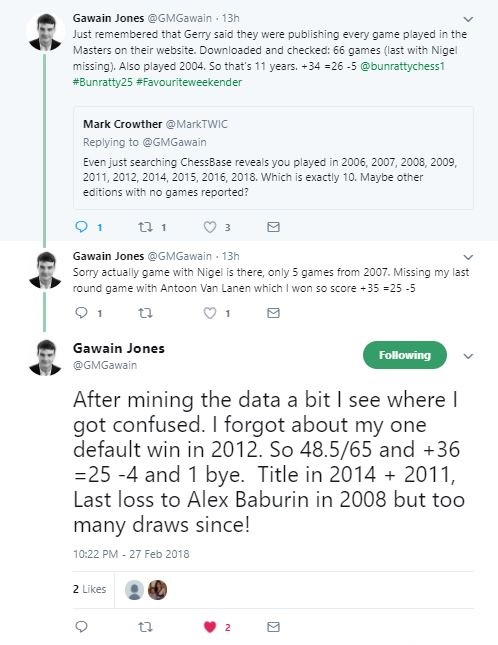 We flew over on Wednesday on a direct flight from Manchester to Shannon Airport. This was the day before the first, and hopefully inaugural, "Bunratty Party" at Wally's Hut, aka organiser Paul Carey's house, in Limerick. We decided to spend the night in Ennis and Gawain got to catch up with old friend Rory Quinn and his wife Ula, before we took the bus the next day to Bunratty. I think I've mentioned it before but Bunratty is a strange village with a castle and folk park, hotel, pub and souvenir outlet store. If you weren't playing chess, there wouldn't be so much to do but luckily we were there to play! The party was so much fun, there was a home bar (first I've seen!), live music which made for an amazing atmosphere, and of course Gawain was the gracious recipient of his present from Uwe Walschus from Germany for losing to Magnus in Wijk.
@GMGawain got a nice present from Uwe! @MagnusCarlsen#chess#chessandbeer#bunratty#tatasteelchess#iwasupabishopagainstmagnusandalligotwasthis☕️pic.twitter.com/pcuecv5N5c

— Sue Maroroa (@WIM_Maroroa) February 22, 2018
We survived the night and the next morning we decided to go and visit the Bunratty Castle and Folk Park. Gawain had never(!) been before so I decided it was time for a visit – he was surprised as I normally don't like going to see historical buildings but I didn't feel like sleeping all day until our first round game. We managed to follow Peter Doggers in and decided to explore it together. We actually spent a few hours there and I was surprised how much there was to see. It was off season so I would be interesting coming back in the summer when it would be in full swing. It was a very touristy place though and probably mostly for Americans who are interested in Irish history.
Gawain and Peter decided to explore the basement in which prisoners were kept, I decided to stay up and take a video.
Now onto the chess, 6 rounds over 2.5 days is a tough schedule and one I struggled with. Overall I had a good tournament with draws against a GM,IM and FM. Of course Gawain came 1st= but unfortunately lost in the blitz tie break which was just one game and winner takes all (the Trophy and the title!). I'm sure we will be back and Gawain will be able to add to his previous two titles. The game of the tournament could've been the game Malcolm Pein played against Gawain but as we know my husband can be magician escaping from losing positions and he managed to use the clock to his advantage. In Malcolm's time trouble he blundered from +10 to -5! It was a shame for him as it was such a nice piece sacrifice but this win meant Gawain was still in a fighting position for first.
The schedule of 3 rounds a day was too tough for me and I completely collapsed in my game against IM Mark Heidenfeld. It's been a long time since I've played so terribly and normally I am quite pessimestic about my play but this time the throbbing headache, lack of sleep was too much. I was quickly told after the game by IM Sam Collins and Gawain that 5.Nc3 is the way to play and funnily enough in the blitz the next day I also got this 4…Qh4 Scotch again and that time I did play 5. Nc3 but followed it up with 7.Nxc6 (instead of Nb5 misplacing Black's king) but finally in another blitz game I played the theory moves!

(and yes they know they have spelt my name wrong – and now that I think about it they didn't even get my flag right as they still have me down as NZ.)
It's quite clear to me how popular Bunratty is as a tournament. The atmosphere is fantastic and that even allows non drinkers like me to attend (as long as you join the party). There's been many updates about this tournament that you can read about from Peter Doggers, Gerry Graham, Macauley Peterson, Ginger GM and of course Fiona's Vlog. Ireland has such fantastic chess culture with so many friendly faces who are always so welcoming. If I'm honest, the accent is a bit difficult to understand at times but if you drink a little it'll probably help you understand them better. It's a very popular tournament with fantastic organisation and a great group of participants. There are 4 sections to play in – Gawain's Mum participated in the Minor and we hope to be back next year. Mark the dates in your calendar 22nd-24th February 2019!