Pride and Prejudice played Pandora's Box Grantham whose players had an average rating of 2159. Kev McCarthy our good friend is their team captain and the team have yet to win a match.
Last weekend they lost 8-0 to our Round 6 opponents: Barbican 1. The team felt we should also achieve a similar feat but instead we managed 5.5-2.5 with only 0.5/3 on our Top 3 Boards. I'm not sure what happened but in Gawain's game he sacked a piece for two pawns and his opponent proceeded to play perfectly in time trouble. He was completely lost in the final position but his opponent Martin Burrows 2168 forced a draw.
Me and the team captain(Kev) were discussing at the time about the draw offer and what  Kev wanted Martin to do (take it) and what Martin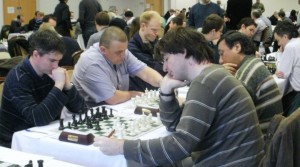 actually did(played on for a while before  it all became a bit daunting). Playing a stronger player especially a Grandmaster is very daunting, at least for me. Sometimes, I feel like I defeat myself before the game has even  started simply by staring at their formidable ELO. This game,reminded me of my first round at the Khanty-Mansyisk Olympiad playing WGM Daria Kaps from Slovenia (2304)and getting so excited about a draw forgetting to even look for a win! All I was thinking is "I don't want to lose" but instead now I try to think "How can I win!".

Round 6 was a big match up for the team, playing Barbican 1 who were a point behind in the standings. This morning, Gawain woke up ill with a combination of a horrible headache, tummy bug,lack of sleep and alcohol. This is the time when you need your "chess widow" to take care of all the basics: shower,painkillers,chess prep, breakfast and a general nurturing mood. Gawain played IM Sam Collins with the white pieces in a Scotch(Ga will update soon about the games). The team won 5-3 (yay) but at some points it seemed unclear what the results would be. You can check out the games here.