I'm pleased to announce that we will be heading to Corsica in July for some sun and chess! Gawain has played in Corisca 4 times also playing previously in the strong rapid knock out tournament in Bastia. You can see the starting list for the main tournament here. Or you can check out the official website if you have some basic French. Language-wise Corsica is a really interesting place with it's mix of French and Corsican, which is similar to Italian. Gawain can read the language (thanks to his Italian) but speaking is too difficult.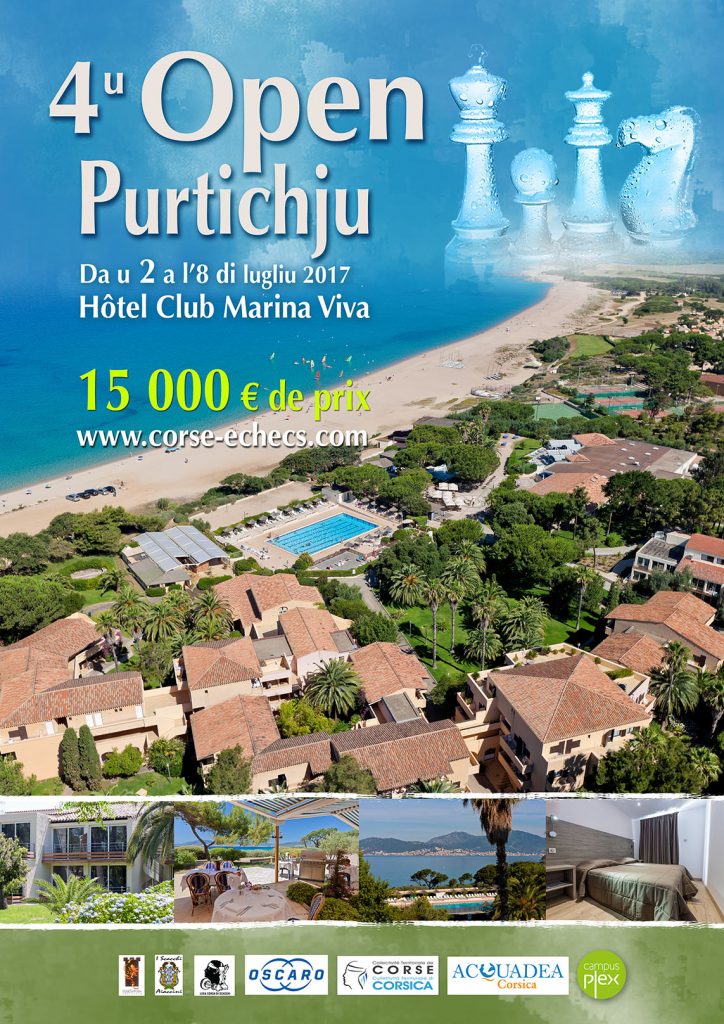 I have never been to Corsica but I have heard so many good things about the place. It's where our good friend WIM Fiona Steil-Antoni's family is from so she loves to head back there to visit and relax!
There is also a Blitz tournament held after the main tournament with a first prize of €2000. It's held in a village high up in the middle of Corsica. We both made it onto the poster below 🙂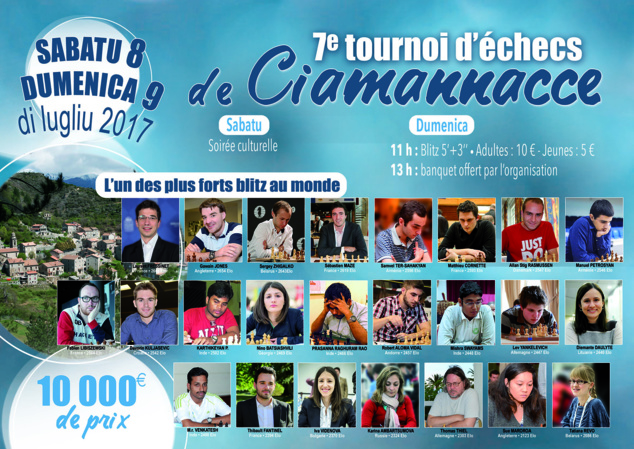 When Gawain played in this tournament last year, I remember calling him while the bus was taking him and the other chess players to the village in the Hills. I had lost my wedding ring a few months previously and in anticipation of our move out of London I was doing a clean up. I was cycling to play Tag Rubgy from work and when I arrived at the rugby grounds I noticed my engagement ring was very high up my knuckle. I then realised my wedding band wasn't on my finger. I searched the grounds and then I decided to head back the way I cycle (about a 3 mile route) to try and find it but to no avail. That night was also a finals night for tag and I managed to get Female Player of the Season to my surprise! I was very sad that I had lost my wedding band. When we went away for our 4 year anniversary to Porto, Gawain kindly bought me another band and now I have 2. I was calling him with excitement because I had found my wedding band in my odd sock drawer (which would have been a very strange to put it in the first place!) I guess I must have placed it there for safekeeping but I was so happy I had found it!
We are both looking forward to heading to Corsica in July and if I find out any more information I'll let you know.
Gawain's next tournament will be the super strong European Individual in Minsk. He has a new passport as his previous passport had no blank pages left for the necessary visa. List of players here.