I'm writing this on a very comfortable train south from Madrid. I'm on my way back to Linares to play in the Spanish League for Sestao. Last year everything went perfectly for us but it'll be a tough proposition to hold on to the title. I thought my dash from Hull was slightly crazy but met Vidit at the station who has come directly from China. We both miss the first round but our teams are playing in round two. You can follow the games on chess24.
The British Championships was a case of what might have been. It started very well with 4/4 followed by a draw with Black against David Howell in round five. Unfortunately I wasn't able to put any real pressure on Tamas Fodor in round six, and then lost the crunch game with White against Mickey Adams as my position turned out to be worse than it looked. I bounced back with a nice win with Black against Mark Hebden but then couldn't quite grind out a win with Black against a very solid Ameet Ghasi in the final round.
Mickey gave the rest of us a chance, with two draws in the final two games, and Luke seized the opportunity to force a playoff, defeating David with Black. Ultimately Mickey was too strong in the Play-Off, despite Luke conjuring up a win from a terrible position in game two to force it to blitz. Another British title for Mickey. It's impressive how long he's retained the British number one spot and he doesn't look like relinquishing it any time soon. David and I came 3rd= with 6.5/9 half a point back. A reasonable performance but I doubt either of us are entirely satisfied. Winning margins in tournaments are so very small.
This year's British was stronger than I can ever remember. I played an average field over 2500 and just one untitled player (who incidentally missed out on an IM norm by just half a point). I was pleased I generally maintained pressure without giving my opponents winning chances but it was hard work. I averaged over 55 moves a game in the first four rounds. I'll need to improve my score against Mickey if I want to finish ahead of him next year.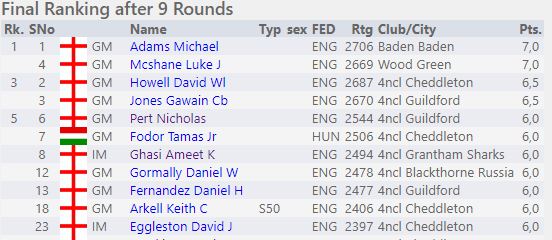 After I get back I'll have a week at home and then head up to Edinburgh. My siblings are performing at the Fringe for all of August and I'm looking forward to finally catching their show, Rory Jones: Return of the Wizword. Having seen some of Rory's stuff before I'm sure it's highly entertaining and well worth seeing.