Wow.
It's been forever since we've written an update. Life gets busy doesn't it? Well I for one haven't forgotten about our readers there's been lots of ideas but no real sit down time to write something but since Gawain's played in the Scottish Championship and we had a holiday in Scotland I feel it's time now to write something.
I got a week off work and originally I was dreaming about somewhere with a beach but most definitely sun! Gawain managed to persuade me that heading up to Scotland was a good idea and I'm glad I did. We decided to do 3 days in Edinburgh, 2 days in Glasgow then I'd come up to Helensburgh for 2 days and then I'd head back to London.
On Sunday the 30th June, We took the train up to Edinburgh which took 4 hours and 19 minutes. Getting into Edinburgh and the weather was sunny and bright but it wasn't to last. Within the hour it turned grey, windy and quite wet. Thank goodness I permanently carry around an umbrella. We headed to our accommodation to drop out bags off and then decided to go for a wander. Little did we know in our exploring we saw most of Edinburgh. Walking down the Royal Mile to Holyrood then over to Carlton Hill then back down through the New Town to the Old Town.
A lot of walking was done 🙂 On Monday we decided we'd spend the day at Edinburgh Castle and at Camera Obscura. We were lucky that on Monday the weather was gorgeous and that since the Queen was visiting we saw a 21 gun salute. We were right behind the Royal Canadian Highland Fusilliers. The Castle is very beautiful and there's lots to see. We were lucky we got 1/2 price off as we are members of English Heritage which we joined whilst visting Tynemouth Castle and we haven't used it since. The views from the Castle were quite spectacular and I would recommend checking out the castle.
Camera Obscura was a very cool place. Full of illusions which Ga and I love. We did something similar in Melbourne nearly 4 years ago so I think it's something that is great to see every now. Mirrors, optical illusions and the main show of the Camera Obscura were all fantastic. Again from the top you could see all over Edinburgh.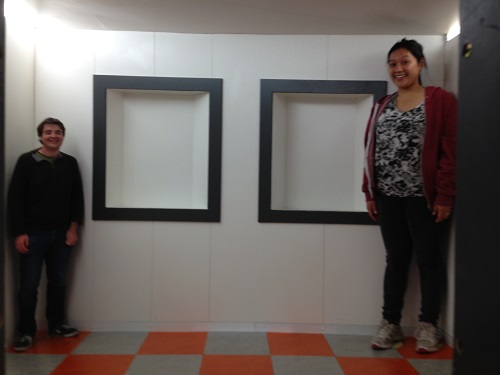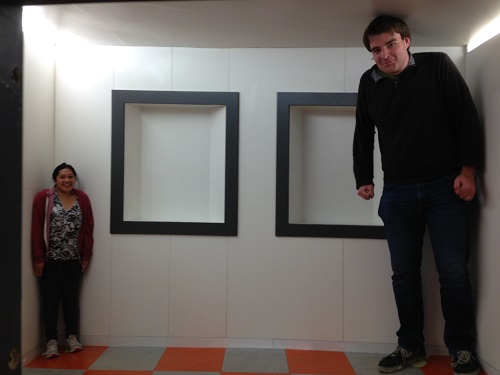 The next day we had a lovely morning brunch at Brunch on the very hip Marchmont Road. We then decided to walk back via the Castle to Princes St for a spot of shopping before heading to the Museum of Scotland. I'm not a huge fan of museums – I love the idea of them but I love things to be quite interactive or else I get bored and wander off. Inside there was a Scottish history area which is quite interesting. All I can remember is James VI (of Scotland) and I (Of England) when he united the Scottish and English crowns. We went to the famous Elelphant Cafe, how could we not? As we know how much Ga loves elephants :-). It did have a great view of the Castle and was one of the cafés that J.K Rowling first wrote Harry Potter in. There were so many elephants all around the room.
Afterwards we had a lovely cheap dinner catching up with a friend from high school – which was 6 years ago! We had a good rest after so much walking.
Wednesday morning consisted of a lazy start with a delicious breakfast from Kilimanjaro – such good coffee and then we caught a fast train to Glasgow. It only took 50 minutes! Arriving into Glasgow the first thing I saw was all the shops 🙂 The layout of the two cities are very different but I think that overall I preferred Edinburgh. The things to do in Glasgow aren't as obvious to do but on our first afternoon there we went to the Shamanka Kinetic Theatre . They're amazing pieces of art – scrap metal all carefully placed together to create an incredible choreography which tell a story. Most of the stories at this show were related to "The Motherland" Russia.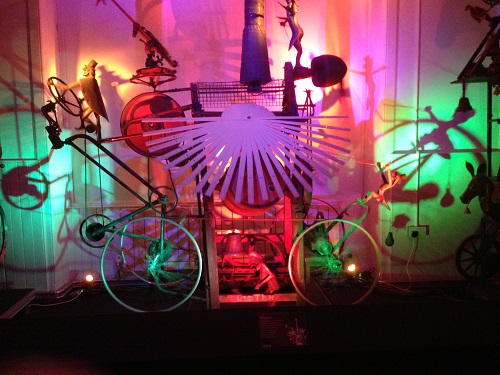 On Thursday we walked towards the West End of the city with our destination being the Kelvingrove Art Galery and Museum. I remember being distracted (probably by some shops) so we skipped the 11am tour and decided we would make it for the afternoon one! (Free btw and our guide was ever so nice). As we walked along I had plans for a nice lunch at a cake shop but then we spotted a tiny little korean  and just had to go in. I love Asian food and I miss it so much. The food was delicious and so cheap! I've just found out they have a sister store in Edinburgh too, maybe they'll venture down South.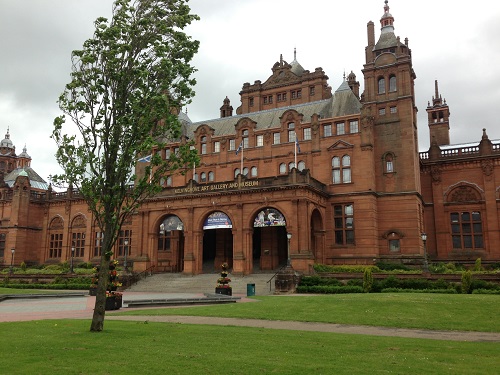 Again the Kelvingrove was pretty good. It backed upon a huge park which the Universities overlook so it's quite a trendy area. I liked this museum, it had lots of huge natural light and then of course there's the Dali for the art lovers!
Friday morning and off we went to Helensburgh. Our plan for today was to drop our things off at our B&B then head to Loch Lomond. The day before I noticed we could do a segway tour and I've wanted to do one since Prague 2010 (on our way to Khanty Mansiysk). It was so much fun and I thought I was overall a pretty good driver. We didn't see so much of the Loch itself but we hope one day to do a drive around the Highlands.
The weather had significantly improved, still cool enough to wear a jumper but none of that nasty rain!
I spent a couple of days relaxing in Helensburgh before taking the train back to London. Scotland really reminded me of NZ so I guess if you can't yet afford the £1000 flight cost popping over to Scotland is a good try! 🙂