We arrived into Tynemouth (where we will stay for the duration of the British) on Sunday afternoon and to my delight found a lovely village with lots of amenities including chocolatier!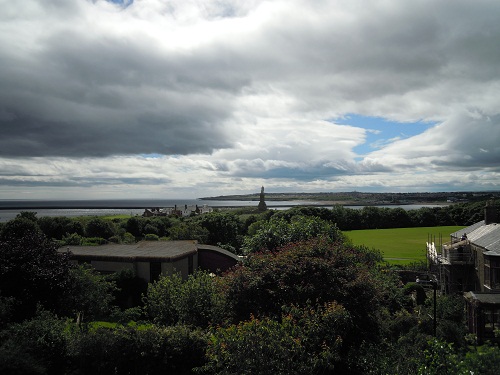 In the afternoon we walked over to Parks Leisure Centre in North Shields. The coastal route was lovely albeit a bit windy with the waterfront dotted with Fish and Chips shops (or fush and chups if you're from NZ). It took us a good 50minutes which including stopping for the information signs along the way and walking up hill. The playing hall is very spacious and green for the British Championship, it's a little noisy in the hall itself as it normally  an Indoor Bowling Green and they've placed this green lego stuff over the floor which makes a noise any time anyone steps on it. Yesterday we chose to walk the faster route and walked past this grand building, used as a rest home we think.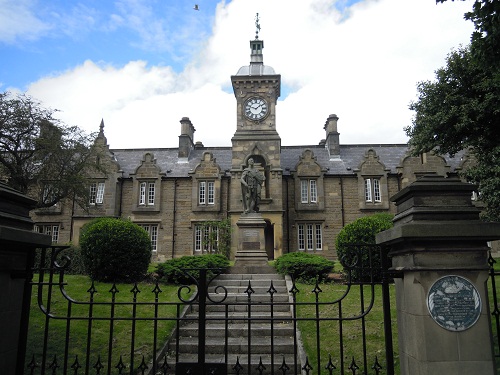 Round 1
Originally we were told that the pairing were to be done "normally" and from that ith 64 players I'd be playing Peter Poobalasingham and Gawain would be playing Jim Burnett but instead the pairings were accelerated which meant that Gawain instead played Peter and I played a 2134 junior called Marcus Harvey.
Gawain's opponent deviated on move 8 from what Gawain knew as theory and had a long think and things became complicated but Gawain calculated accurately and got mate in first! I think you can download the games from the website as our PGN viewer isn't very good.
I on the other hand played a game where I was always slightly worse and in the endgame I didn't know what to do and it was quite easily drawn at the starting point but I let him get his pawn to h6(I was black) and he managed to win my h7 pawn in the endgame and then create two pass pawns and was then winning!
With the accelerated pairings there were upsets such as IM Jovanka Houska losing to up and coming junior James Holland, GM David Howell drew with another strong junior James Adair, GM Stuart Conquest and IM Richard Palliser both also had draws with their lower rated opponents.
Round 2
Gawain faced Terry Chapman (our fantastic tennis parter) with white, Terry mentioned to Gawain that if he had got a result he would've been over 2300 and therefore get his FM title but Gawain won and we're sure Terry will get the title soon. The game started life of as a Caro-Kann and quickly turned crazy with both players castling on opposite flanks. Gawain hacked away on Terry's kingside and he required some accurate calculation as this was another game where his attack was one tempo ahead.
I played another junior Radha Jain whom I noticed hasn't been playing much this year. After the game she told me she was also playing in the morning event which I definitively wouldn't be able to do. The game itself wasn't fun for me as I let myself get squashed by her pieces. She then swapped of pieces which meant it wasn't so awkward for me but then blundered a piece. Lucky for her, her position had been quite good and I had a weak king. I swapped of into an ending two (crappy) pawns up and everything got quickly swapped of for a draw!
Today is Round 3 and I faced my original Round 1 opponent Peter Poobalasingham and Gawain faces GM Keith Arkell. You can check out the website or the pairings.