So Friday morning we left sunny London to go to play in the British Rapidplay Championship. Cold is what I thought of the North and I wasn't disappointed. If you ever go we recommend you take the Grand Central trains which offers free wifi and the oppurtunity to play chess in their carriages!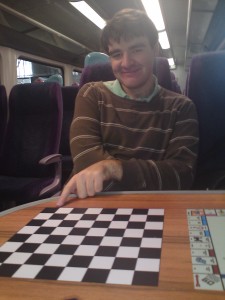 Yorkshire is Gawain's home county and he hadn't been back for nearly 10years(!). For dinner that night was a fusion of Yorkshire pud and bolognese sauce and jacket potato for me. We'd been walking around Brighouse town centre for food but whilst searching saw the locals eating fish and chip (kebabs,burgers e.t.c).Chess was the reason we were up in Halifax and the 1st day started of well with a score of 5/6 for Ga including beating the second seed GM Mark Hebden. Saturday night was spent driving around the sights of Halifax and the neighbouring towns for the boys who were craving a Kebab a few beers later and it was midnight already! The Sunday round started at 9.30am which in our view is far too early. The time control was 30minutes (no increment) and then 30minutes inbetween rounds which makes the day drawn out. The day started of well with a draw against IM Richard Palliser then a win against GM Stewart Haslinger then things started to go wrong..Round 9 in a drawn (slightly worse) endgame Ga decided to press on for the win unfortunately his king ran a long long way from d7 to h7 going down then comin back around again! The next round Ga blundered a whole rook in which he thought he had a mating net but managed to draw the round. Fatigue had caught up with most of us by now but the next round things became slightly worse when Ga blundered his queen and two pawns(for two pieces) and couldn't manage to save this one. This meant the winner of the tournament was GM David Howell who ran away from the rest of the field and finished on 10.5/11. Congratulations to David! We'll see him at the London Chess Classic.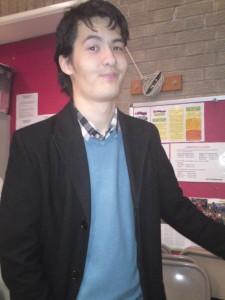 A special thanks goes out to Kev McCarthy and  Nigel Birtwistle for driving us around and being great company.
Tonight is a London League game at The Plough, 27 Museum Street, WC1A 1LH if you want to catch some games!