Round 2 was a good day in our family as we scored 2/2. Unfortunately in Round 3 we didn't do so well with Gawain playing GM Alan Pichot again and I played our friend IM Lorin D'Costa, one of four English players here! There was a 750 rating points difference between my opponents between the first two rounds. This tournament is definitely one where you feel like you are yoyoing.
In my Round 4 game, I was completely lost when I reached this endgame.
After the game my opponent was very upset with himself and he cried. It's part of playing chess that you have to make sure you put away players. There have been of course many times where I have been completely winning and yet lost.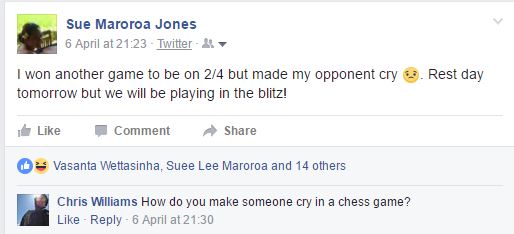 Chris, a tag rugby friend was slightly puzzled about how you would make someone cry in a chess game. He's more used to seeing angry Sue on the pitch and I did point out that I didn't tackle anyone 🙂
The next day was the rest day. But really, as there was the blitz on at the normal time, it was another day full of chess! Some chess players decided to use the day for rest but I followed Ga! The blitz didn't start so well for Gawain but he finished on 7/9 to just finish outside the prizes as he came 7th and there were only 6 prizes. Last year this tiebreak system favoured him when he beat Akopian to take 1st place in the Dubai Open. One of the reasons to play in the Blitz was for Gawain to shake off the bad play and I think it worked well as in the remaining 5 rounds he was on fire!
The day after the rest day there were 2 games to be played. One early morning (10am) which was when we were normally sleeping. From what I saw there was a forfeit on Board 12 by Vladimir Akopian – perhaps he forgot what time the round was (he ended up dropping out of the tournament). There were also a few quick draws on the top boards even though there is the 30 move draw rule in place here.
At breakfast we didn't see many chess players at all and we were all definitely bleary eyed when we got to the tournament hall. I immediately headed to the Checkmate Cafe (which does surprisingly good coffee) for my caffeine hit. It didn't help my game as I was expecting some sharp stuff in the Kings Indian Samisch variation but instead I just blundered my b pawn and lost quickly! I also lost the next round but Gawain bounced back with 2 wins to be on 5/6.
In round 7 he was playing the tournament leader the young Spanish IM Jamie Santos Lantasa who scored a GM norm from his performance in the tournament. It was a good game with a nice zugswang at the end.

This win meant Gawain was now leading the tournament with GM Iturizaga from Venuzuela and GM Vidit from India. After two draws in the final rounds it was left up to the tiebreak system to decide the winner. As I've written before, Professional Chess players would prefer the Hort system which I believe they are using in Grenke for the Open. In Dubai there were 7 players tied for 1st place with 7/9 but Gawain won $13,000 and GM Rakhmanov won $2,000 so quite a big difference. Gawain's been lucky both last year and this year with the tiebreaks working in his favour. We also managed to bring the trophy back to the UK! For Gawain overall it was a success, losing 3 ratings points from the two tournaments but the prize money softens the blow. I on the other hand lost about 70 points – playing too many young Indian kids who are hungry to beat you and I struggled with my lack of a complete repertoire. I am confident that I'll be able to gain back my lost elo… or at least I'm hopeful! We will also of course plan to come back for the 20th edition next year.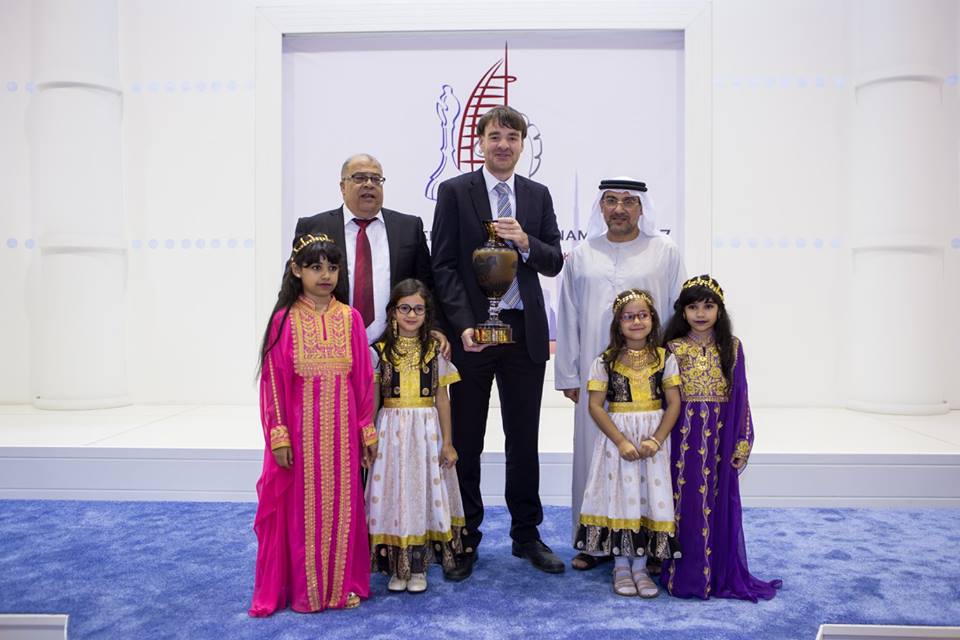 After 3 weeks away from home we were both very glad to get back to Sheffield, especially as we'll be leaving on Tuesday to head to Iceland for the Reykjavik Open. I'm excited to head back to Iceland and to play in Reykjavik for the first time! Many players from Dubai are also joining us including IM Tania Sachdev, GM Abihjeet Gupta, GM Vidit Gujrathi and WGM Nino Maisuradze. It'll be nice to see friendly faces all over the globe.
We were also lucky to host GM Peter Wells and his family over Easter Friday! Pete loved our chess cushion kindly made by Gawain's Aunt Alice and he spotted our wobble set that we picked up in NY and of course the boys couldn't resist playing some chess.