We've been back home now for just over a week since coming back from Crete and weather wise it's been a shock to the system! Though Crete was not as warm as I had hoped it to be, it was still mostly t-shirts and shorts kind of weather so once we got back and I was wearing my thick coat in the house, I knew that winter was here!
We were also away over the weekend, heading to Telford (but staying in Wolverhampton due to a hotel overbooking) for the 4NCL. It was a successful weekend for both of our teams, White Rose and Guildford and for both of us as we scored 2/2 over the weekend. Gawain played quite "loosely" after being solid for England and played quite a nice game on Sunday.
The Europeans were held in Creta Maris, a resort that was specially opened for the Chess players. It was kind of strange to be in a 5 star resort in the off season and you could tell that we were probably the last tourists that the nearby town of Hersonnisos would see until the season started again next year. The pools were closed and the gym cost €5 a day to use and there was only one restaurant open (as opposed to the 4 or 5 in the peak season). I sort of used the cost of the gym as an excuse not to exercise (which would come back to haunt me later in the week!). There were also tennis courts, a 5 a side pitch and mini golf. We played some football with the French, Norwegian and Armenian teams and I now have a new appreciation for what footballers do, as it is quite hard to simply kick the ball into the net. We also managed to play the mini golf which was on terrible terrain and there was a lot of chipping involved.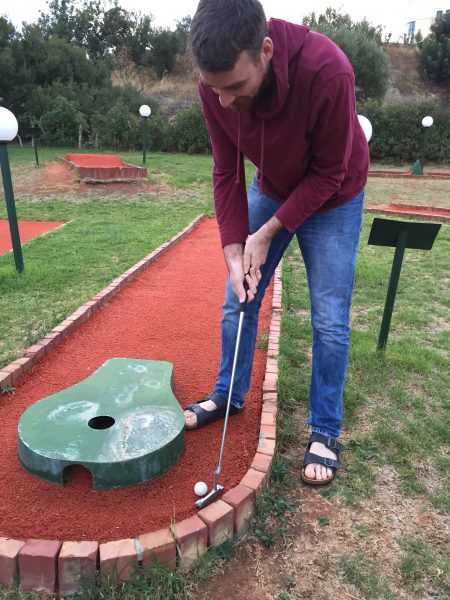 I was pleased to find a restaurant/cafe called "The Coast Bar" which served very good coffee but unfortunately stopped serving food in November.
Playing in team events is definitely a very different experience as chess is normally such an individualistic sport. You're already nervous about playing and when you have the opportunity to represent your country, then there is the pressure that you put on yourself to perform well. There is a nice sense of togetherness and routine that you do get in a team event as opposed to when you play by yourself in a tournament. It's sort of hard to completely relax during any event but during a team event I think it's more difficult just to do your own thing as you've got to socialise with your team mates. During the event, I only briefly saw my other chess playing friends who were there playing for their countries and would keep our conversations to a brief "Hello, How are you doing" etc.
Colours are also another nuisance that players/captains should take into consideration during an event, I've played for England in 1 Olympiad and 1 European team and I've had 12 blacks and 4 whites. It's obviously not ideal but it's a team event so there are many factors that come into consideration when selecting players to play.
Our routine was quite set each day (as in a normal tournament): breakfast at 9am, pairings out at 9.45am, then preparing until lunchtime (for me) and after lunch (for Ga). After lunch I went for a quick walk (mainly to get coffee), then meet time at 2.45pm for the 3pm game, play the game, dinner, the bar for a quick post mortem and drinks (O.J for me) and then sleep before starting again.
Tournament wise, it was disappointing for me. I struggled to find any rhythm and in general felt like I played well but it wasn't enough to win. I didn't win a game during the event, though I was completely winning in my  2nd game against the Belgian player Nele Vanhuyse. I've annotated the game below from when it became interesting.
All chess players blunder and when the blunder feels so terrible it's very easy to have a restless night. It's always a terrible feeling if you lose a winning position or miss all the wins in a winning position. Neither is easy but as a chess player I try to remind myself that everyone misses things and makes mistakes but it doesn't stop the brain from repeating your mistakes on a loop system. I've been trying to work on how my brain processes these mistakes during a tournament because, when you are playing, getting a good night's rest is so important but I didn't sleep very well that evening.
I want to thank my team mates for playing alongside me and for our captain Jon Speelman who had to deal with some pretty headstrong players. Also to the men's team and their captain Malcolm Pein and coach Pete Wells.
On the way home, our flight was delayed and we spent an extra few hours that we didn't need at the tiny Crete airport. Instead of going through to departures, we sat outside and enjoyed the last hot sun we would see this year – it was even too hot at times and so I was also in the shade. After some time we headed through and spotted my White Rose team captain, Paul Townsend with his wife in the departures area after they had a quick visit to the island.  Since our flight was delayed I didn't manage to get to rugby training on Tuesday but went on Thursday as I had a game on the Friday. It was a development game and it's actually been a long time since I've been on a rugby pitch. I played at 8 and 10 and during the game I was quite confused once I had switched from a forward to a back as I kept wanting to be a nuisance in the rucks. It was a lot of fun but I have a lot of bruising. I had to sub myself off in the second half as I was definitely not match fit. This is the difficulty when we travel so much and I don't get consistency in my exercise regime. I'll try and remember that for next time we are away.