Our tour started at 11.30am and would finish roughly 12 hours later. It was a long day, but an amazing adventure. Our guide was Jon, who was very friendly and extremely knowledgeable about all things especially geology. He is also one of Iceland's rescue guides (Good to know!). I had a lot of questions especially about Volcanic eruptions, falling in the ice… I'm a worry wart but he was very professional and manage to calm me down. The trip would take us from Reykjavik along the South coast of Iceland.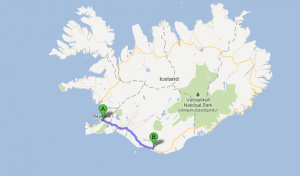 Whilst driving, we were told we were driving through the North America/ European plates which was pretty cool, fortunately we didn't feel any activity. On our journey, we passed through Selfoss where the next Icelandic League in March will take place. Chess fans should also note this is where Bobby Fischer is buried. Most Icelandic names can be broken down so Selfoss is Sel is Seal and Foss is waterfalls (Gulfoss being the famous one).  The story behind the name is there was a waterfall (not what you would call a real one, Jon said) and the seals use to get stuck swimming in,hence the name. Whilst driving, Jon pointed out lots of volcanoes and I only can remember the name of a few. Hekla (Aka "The Gateway to Hell" other meaning is a shawl because she's always covered in a sheath of snow). Funny that Hella which is a nearby town, is the only town in Iceland not to have a church in the centre but on a farm a few miles away. Katla which means kettle is due to blow anytime soon. We also passed the world famous Eyjafjallajökul which 2010 erruption caused loads of delayed and disruptions for many travellers (we were stuck in NZ, with no travel plans for once). This is what she looks like when she's not erupting.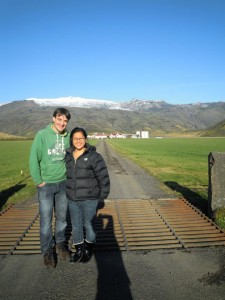 Driving along the coast, we saw the Westman Islands which became famous when in 1973 Eldfell caused the evacuation of the citizens to the mainland. There is now an island caused in 1963 by a under the sea volcanic erruption. Surtsey is now an island used for research as to see how life begins. An interesting experiment!
Skógarfoss was the first waterfall we came upon and it was something! We could see a rainbow from the bottom all the way to the top.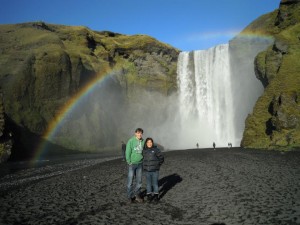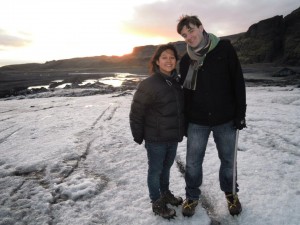 After a final 30minute drive down rough terrain we arrived at the Glacier (a very beginners one) and got ready to walk up. It wasn't as steep as Helgafell but I had to be careful balancing and to dig in my crampons. It wasn't as cold as I thought it would be, but it was so beautiful. This was definitely a highlight of the trip. Jon was very well informed and showed us the carpark where the Glacier had only been a few years before. Check out this video which shows quite scarily how fast the glacier is retreating.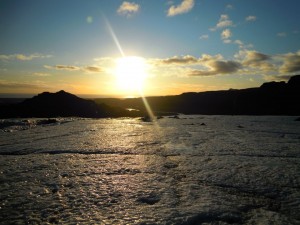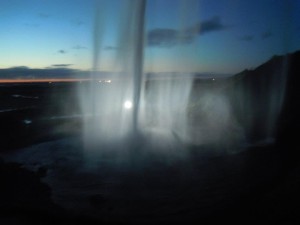 Seljalandfoss was our stop on the way back. Unfortunately it was quite dark by the time we got there. Nevertheless we managed to walk halfway around the back – any further it looked too scary and wet!
The lobster soup was delicious and well needed when it was getting quite nippy! Check out their website. I saw a comment on trip advisor saying there was a Skyr tiramisu pudding with rum in it! I'll have to go back… After the filling food, we headed out into the darkness in search of the Northern Lights. We had a beautiful cloudless sunny day but by night, the clouds were about but the main thing was the moon was so bright! I could see waterfalls and mountaintops and everything was lit up. We did manage to see the white flouncy bits (Not sure this is the best way to describe it) But we saw where it was and fingers crossed for next time. We drove to Þingvellir where parliament was established in 930. Hard to say what was really there as it was 11pm though we did see a church and a cemetery where people of historical importance are buried. This is also where the two plates are pulling apart! One difficult thing about finding the Northern lights is that most places were lit up (farms, cities). They love using their electricity! Check out the tours here. This tour operator comes highly recommended. Thank you Arnar again for organizing the trip and thank you our guide Jon for all the information 🙂 Iceland is a truly amazing place and I can't wait to go back and explore more of what's there to offer.
P.S GO ALL BLACKS!!!!!!!!!! Now Gawain has to support NZ because England got knocked out by France while we were in Iceland 🙁