10 days ago, I turned 24. I was in a way dreading it but I'm so happy with my life. I kind of felt like now I will be heading into "proper" adulthood, that now I wouldn't be able to do childish thing not that I'm so immature or anything. I guess most people would say I am quite mature for my age, I don't drink or really like partying ( I love dancing), got married to the love of my life at 21 and actually prefer to stay at home most of the time! That said, I still wanted to celebrate and boy did I manage to get as much as I could out of my birthday! It actually turned into a week of celebration.
On the day itself, I was very lucky to get the day of work (Thanks Boss!). I was tossing up between staying in bed all day or going for a walk. We had a late brunch at the Hummingbird Cafe which was absolutely delicious and headed towards Egham. From Egham we walked to Runnymeade where the Magna Carta was signed. It was a beautiful day and the walk was lovely though we hit a bit of mud (nothing compared to what you get at a rugby game). We managed to get slightly stuck when the water seemed to overflow from a lake and we had to take a detour – but there was not a worry in our mind as we could see the roadside clearly (that was not such a nice bit of the walk).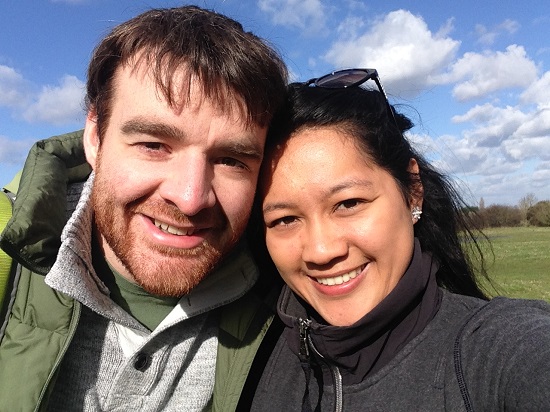 After getting back to the town center we stopped off at the local Oxfam (what's a girls birthday without a bit of shopping). We managed to spend nearly £30 there buying books, dvds, games! We then stopped off at another charity bookshop and at this point our rucksack was filled with books. We stopped off at the pub so Ga could have a pint and then we headed to Sushi Hana for dinner. What a perfect day! We got on the train which was packed but managed to get home by 7.30pm and got a cake in the oven.
The next day I headed back to work and this was waiting for me.
I took half the cake with me to rugby training as I knew Ga and I couldn't finish it by ourselves (plus I ordered another cake for my birthday party on Saturday). Some of the girls weren't so interested when I told them the flavour but they were sold when they tasted it!
Next up was Saturday which was the day I was having my party. A couple of years ago we played outdoor laser combat in Chiswick. That was so much fun so this year I decided to try and play Zorball. What is this? Well it's a mix of being in a zorb and football. It was so much fun and everyone had a blast! But before the zorball we headed into town (Central London) to attend the Oxford Cambridge varsity match. We always seem to miss it and even though we were busy later on in the day we decided we could drop by. We probably failed by the dress code but we were let in.
When we got there, Roger Emerson (Gawain's team captain for his 4NCL team Guildford) told me a kiwi guy named Cliff came off the streets and wondered into the chess. I didn't think anything about it as I don't know any Cliff's let alone a kiwi Cliff. Roger told Cliff about me, so they googled me.
As we left to make it in time for the zorball meet up I walked out the door and who did I see, Cliff Curtis! A famous kiwi actor. He was in the Whale Rider, Blow (with Johnny Depp) and also in a movie called The Dark Horse. The Dark Horse is a kiwi film based on the life of Maori chess player Genesis Potini. I haven't seen the movie yet but I hope to see it when it comes to London. We hugged, chatted as we were old friends (but I think it's just a kiwi thing). He wished me luck in Iceland! And was in general nice 🙂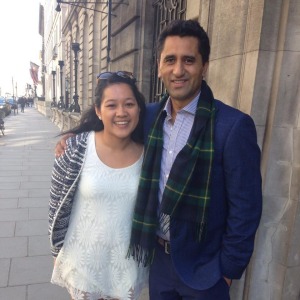 It was a beautiful Spring Day. Not like a few years ago where we had to wear gloves. It was very warm and inside the zorb we were all a bit blind.
It was such an exhilarating and exhausting thing to do! I wasn't very smart when I played (which happens when I try something for the first time). I try to wrap my head around the "theory" and normally fail in this case, I fell on my butt many times but I think I will be much improved for future events. We have some video but they are pretty embarrassing to show.
We then headed to Franco Manca (best pizzas) for dinner and cake and then to the pub for drinks and laughs. The boys ended up playing coin rugby and drinking many pints.
Sunday was another great day, brunch with our good friends Manuel, Brigitta and Susana. Then a nap before having the best nepalese takeaway and playing Dominon!
Then on Monday my tag team had a little party/picnic! We had double chocolate chip cookies, banana cashew cake and sausage rolls.
I'm a very lucky woman. Thank you so much to everyone who made my birthday so enjoyable (and bearable?). And yes, I did have 5 cakes to celebrate.