It's been a busy summer time. Firstly we headed of to Ikaros where I played chess and Gawain went on holiday, then for me I headed back to London for work and Gawain went to the Politiken Cup. I have also made my debut for England at the 2014 Chess Olympiad (that will be my next update which I plan to write this weekend 20th/21st September).
I tried to write about Ikaros Open straight after the event but the words didn't flow and then life got busy and now it's September :-
Here's what I started with on the 24th of July:
The beauty of Ikaria is breathtaking (and that's coming from me, a girl from the most beautiful place New Zealand). The week before the tournament started work was hectic and it meant that Gawain and I had to travel on Saturday morning taking the 6.45am flight from Heathrow to Athens to make our flight connection to Ikaros. Initially I found a cheaper flight in which I could leave late Friday evening but there would be a few hours to kill in Istanbul which would've probably made the journey unbearable.

Landing into Athens a couple of hours before our next flight departed, the organizers had told me about the (cheap) ferry options but I couln't really afford the 7 hours it would've taken to reach Ikaria from Athens. We arrived about the same time as the people who caught the ferry but they had an hour long (rough) bus journey from the port Evidos to Agios Kirikos (the capital) and Therma (the spa town we were staying in). We on the other hand had a 15 minute taxi ride. Coming down and seeing the coastline of Ikaria was pretty spectacular and on our drive to our hotel I found myself being amazed by the stunning scenery. There was not so much time to relax as our first round started at 7pm (Greek island time too). We took the free bus to the venue and by road it was quite a long way around. I managed to win my first game but my opponent Georgios Vasilakopoulous (1271) had very good understanding and I was lucky he didn't force a draw. The next day, the round started slightly earlier as it was the World Cup (football) Final. I personally wasn't so interested but decided to go with the flow and being the only girl in the group that meant we would have been definitely watching it. I was paired next with Sam Porter a graduate of Imperial College. Him and 6 other guys came as a group and the tournament wouldn't have been the same without them (thanks Jamie, Luke, Ioannis, Max, Sam & Leonard). I got the opening I want, a great position and then I let it go. At that point I should've been happy with a draw but my mind went black and in this position I made the losing move. That night was hard and I couldn't easily sleep. Obviously the best thing to do is just rest but my mind was so frustrated at myself and the next day we had a double round day (originally we would've also played on the departure day Sunday but due to the ferry schedule things had to change). Now I faced a young kid who in the first round was ground down by FM Faisal. Things went wrong and I was faced again with this king and pawn ending that I had against Sam and yet again I blundered and lost.
Did I learn from my mistakes? Well I tried to but by now things had gone wrong and I was in a bad mindset. I was trying to make things right – recreate the magic that happened at the 4NCL but I was probably forcing it. That combined with my mind being in "holiday mode" made a lethal combination for my chess!
The last 3 rounds, I think I turned things around. and managed 2.5/3. I therefore finished 8th= and won the 2nd Women's Prize on tiebreak :-). You can see the final results here.
I would heartily recommend going to Ikaria, it's a beautiful island and the people are so generous. Life is a slow pace there and at first it was difficult to get use to but I can't wait to return.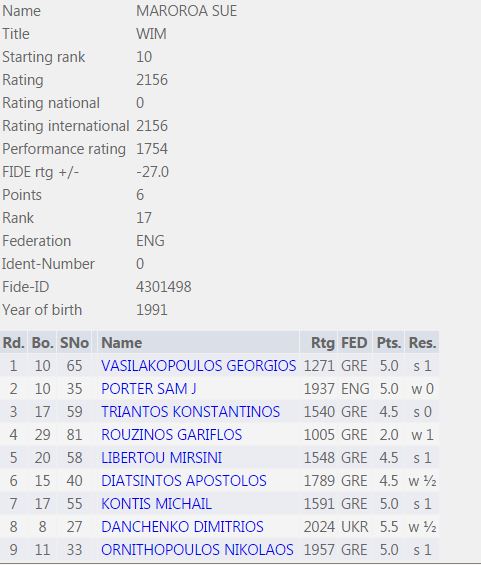 Things to note when visiting Ikaria, people do speak English but life will be far easier if you (or someone you know speaks Greek) everyone is very friendly but there's only so much you can communicate when you don't have the same language. One day, we helped this old (I would say 85+) lady down the hill, she didn't speak any English but we kept repeating "anglikós/αγγλικός"(english in Greek) and she smiled a lot :-). It was amazing to see her so fit and active. It's not called The Island Where People Forget to Die for no reason.
Cost wise things are pretty cheap. Meals take a long time and our normal after game meal was gyros (absolutely delicious but it can't be good for you). You had meat,chips, onions and garlic sauce all in a wrap. That plus the local lemonade/fanta equivalent made a fantastic meal. Back on the note about long meals, it'll take at least 2hours then trying to get your bill will be an extra 30 minutes. These people aren't in a rush and why would they be! Life is to be enjoyed. Another thing to say is when we paid for things they were very relaxed with change and tipping wasn't necessary.
I forgot to mention the cats. Seeing Max like my post on facebook reminded me all about them. The island is full of stray cats, everywhere you go you see cats lazing in the sun, fighting over food – you name it they are probably doing it. I personally don't like stray cats and found them creepy, I did also occasionally scream when they got too near. Even now thinking about it makes my face cringe. Be warned! (They are more or less harmless – one was pregnant and quite aggressive but most you could shoo away)
Thanks to the Imperial Boys we managed to play some beach volleyball… unfortunately we got worse as the tournament went on! But we had fun.
We stayed in Therma which was about a 30minute (beautfiul albeit hilly) walk from the playing venue or a 25minute topsy turvy bus ride away. Therma is famous for it's spa which we didn't manage to visit! Instead we spent the time eating, chilling at Melissa's cafe, playing volleyball and swimming in the cove area. If you choose to play in Ikaria, I would stay in Therma (even though there is a walk to do – it's good for you). It was hot in Greece, but what do you expect a Greek Island in July! I could've done with a daily nap and most days I tried to as our games started at 7pm.
Check out the official website for next year's tournament and help with accommodation e.t.c. The organizers are extremely helpful and always keen for foreign players to come and play 🙂