Last weekend I made my usual November trip to Ireland to play the Kilkenny Masters. As there had still been no decision on Sue's appeal, she still had no passport and thus was unable to accompany me. However my Mum came out of chess retirement and played her first tournament in 18 years – competing in the Irish Women's Championships that was held alongside.
Numbers in the Masters were down on last year and we had just 4 GMs playing: Ireland's resident GM Alex Baburin and three English hopefuls, Mark Hebden, Keith Arkell and myself. After a fairly comfortable first couple of rounds I was paired with White against Alex. He's an Alekhine expert but this time deviated as he didn't want to face my Four Pawns Attack again. After a bizarre transposition a Grand Prix Attack against the Sicilian became a mainline Classical French! With this opening in neither of our opening repertoires we were both on our own from an early stage. I think he must have equalised but soon I managed to get a great knight and after a couple of misadventures managed to convert the full point.
The Saturday is really a marathon day with three games. After the long game with Alex I was rather tired and with Black against Mark I was happy to have a quick draw and he was happy to oblige. That left me leading after 4 rounds with 3.5/4 followed by Mark, Alex and Keith on 3/4. Sunday morning I was paired with my third GM in as many rounds with White against Keith. Keith played the Fort Knox, an opening known for its solidity. After a slight inaccuracy Keith equalised and there wasn't much to play for and so I had another fairly swift draw. Meanwhile Mark beat Alex in a nice game to join me on 4/5.
In the last round I had a repeat pairing from the same tournament two years previously with Black against Sam Collins. That year he beat me and was joint first himself but this time I got my revenge in a Panov Botvinnik variation of the Caro-Kann. The game ended with a pretty queen sacrifice.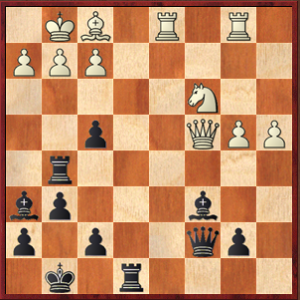 27…Bxg2 28. Qxc7 Bf3+ 29. Bg2 Rxg2+ 30. Kf1 Rxh2 31. Ne2 Rxe2 32. Rd8+ Bf8 33. Rxf8+ Kxf8 34. Qc5+ Re7 35. Qc8+ Re8 36. Qc5+ Kg8 0-1
Mark had a topsy-turvy game against Keith but in the end he too was successful and so we tied for first on 5/6. Gerry Graham, the arbiter, has written a report on the tournament here. In it he writes Mark won on tiebreak but in fact at the prize giving I was informed I won the coin toss and thus the Kilkenny jumper!
After the event there's always a fun blitz tournament with a free bar – very dangerous! I made it to the final but Mark's experience (whether in drinking or chess you can decide yourself) eventually told and he defeated me 3-2 in the final. I'd like to thank the organisers for another very pleasant weekend and urge you to look into it if you wish to combine a bit of chess with a very social atmosphere!