The London Chess Classic started yesterday and Gawain won his 1st round game, today he plays against a Norweigen junior which can be dangerous! This event is on until the 12th of December and I would highly recommend checking it out.
The main event of this tournament is of course the all play all which features Magnus Carlsen (World No. 1), Vishy Anand (Current World Champion), Vladimir Kramnik (Former World Champion), Levon Aronian (World No.3), Hikaru Nakamura(World No.10) and the English contingent of Mickey Adams, Nigel Short, Luke McShane and David Howell. Check out the website for results,pairings and probably any information you would want!
Yesterday, I was next to Vishy Anand and Nigel Short assisting a whole lot of other GMs with the commentating!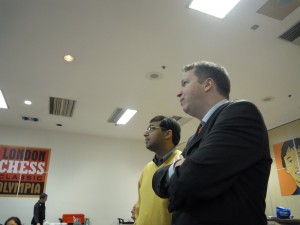 I hope to update with some more interesting pictures 🙂