Wow! It's been too long since we've written a report on. I'm very jealous of Mickey Adam's website which is done with the help of his lovely wife (and webmistress) Tara! I'm not very technolgized but that makes no excuse for not updating very often. I do have some excuses such as settling into London, Chess Olympiad (we did have internet but no time) and starting my first job. I haven't really had a free moment to breathe let alone right a report and so hopefully it'll be more of a collabative website now.
Let's start with the Olympiad – Gawain and I both finished undefeated in Khanty mansisyk which means we made it there in one piece(and survived the stay) after all the uncertainty I can say that it wasnt a bad olympiad experience. One thing I would complain about is the
weather and the beds in our room which led me to sleep on the floor some nights.
Sightseeing in KM is non existent there's one pretty cool looking church and the mammoths with Ga below. Of course there are many statues (and army stuff) referring back to the olden days.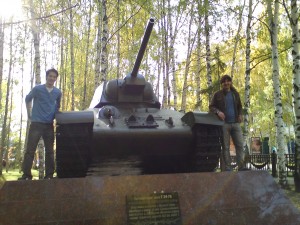 The Bermuda party was on in full blast and this year the 2nd ever Irish party was held(both in the same nightclub). Gawain's final score was 6/8 and nearly gained him a Board prize. (Maybe more info chess wise from Ga…)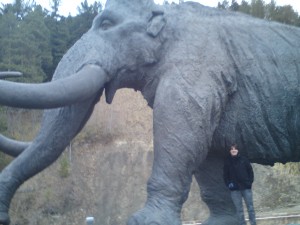 Ga has started playing for his London League team – Athenaeum near Covent Garden which is quite a long walk from where he lives in Oval. He continued with his 100% score on Board 1 which will hopefullly see him playing for another season.
Now Ga is playin in the Corsican Circuit – what's this you may ask? We weren't completely sure until Ga touched down in Bastia and even then we weren't in the now. From what I gathered Ga played in an Fide rated Open and the Top 14 would then play in a Top 16 knock out rapid with Mamedyarov and Radjabov who we're automatically playing. I believe the pairings system they used was a Swiss Accelere degressif which I believe meant the tournament was divided into 3 groups and came out with in the last round
23. 3½FEDORCHUK Sergey A. 2671 1 – 0 GASPARI Alexandre 1360 4.
Ga came 7th(though this didn't matter) with a score of 5/7. He made it to the Top 16 to knock out GM Mark Bluvstein in the rapid then played in the Top 8 against Mamedyarov drawing both rapid games but sucumbing the blitz games. He told me it didn't help playing a morning game and Mamedyarov also getting the weakest player for the Blitz. I think it's a Mamedyarov Radjabov final although I can't find information on the website (en francais) to confirm this.
Next week is the 1st 4ncl and I can promise you an update as I don't have a team (and not looking for one yet). London's weather has been fantastic this weekend and crazy as you walk along the South Bank and over the Bridge to Westminster Abbey. We'll be off to see Bill Bailey in early December and that may be an update.
Ciao
Sue