Sue's snowed under with work and got a bad cold so I promised to take over reporting on part three of our New Zealand trip (although Sue's the one that's made it look nice with photos etc.). After spending the week with our friends in New Zealand we flew over the Cook Strait to the South Island for a few days holiday by the Abel Tasman National Park that Sue dubbed our 'mini-moon'.
We were planning on spending one night in Nelson. We hadn't yet decided whether to get the minibus or a taxi from the airport to our accommodation but when I asked the driver if there was space it transpired we were the only ones using the minibus and therefore it simply became a cheap taxi. Youth Hostels in England always sound like pretty terrible places to stay and very noisy and dirty. However in New Zealand the ones we've stayed at have all been pleasant and as we were only spending one night in Nelson decided to slum it and the place and our room were fine.
Oddly Nelson, despite being on the South Island, is actually slightly north of Wellington and it's known for having one of the best climates in all of New Zealand and is close to the wine growing region Marlborough. It was sunny when we arrived and so we went off to explore the town. After dinner we saw some signs for the Centre of New Zealand and Sue grudgingly agreed to investigate. It turned out it was quite a decent sized walk but the view from the top of the hill was beautiful.
During my time in New Zealand I'd noticed that lots of interesting beer was from Nelson and it turns out they have lots of micro-breweries there. On our walk back we passed one of them and I had a beer tasting tray there. On the whole the beer was delicious and I got a couple of litres to take away but I couldn't manage to finish the stout as it was like drinking pure smoke!
We had planned on having an early night followed by getting up early the next morning but it was pouring with rain. We stayed in the room as long as we could but in the end decided to brave the drenching and set off to a brunch place called Paula's Plate that Sue wanted to try. The owner's sister runs a café in East London called 'Slice of Kiwi' that Sue's eager to try (but it's about 2hours away!!!) and so we thought we'd test this one out.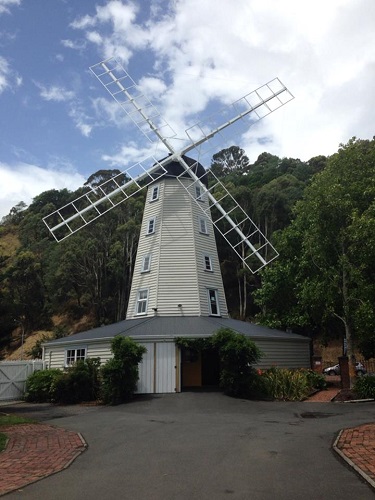 After breakfast we went to the Founders' Heritage Park, an outdoor museum with shops and buildings from the early days of Nelson which I recommend if you have a few spare hours. We went on the old steam train around the park and then had lunch at the café. I should be honest at this point and admit that one of the main reasons I wanted to go to Founders' was that I'd had some beer while staying with Ross and Lin and discovered it was from the park. I had another tasting tray and bought a few bottles for our stay in Tasman – I do like Nelson!
We got the slow bus to Tasman, a tiny village just next to the Abel Tasman Park and were met there by Stan who took us to their wonderful B+B, Wharetutu (pronounced Fa-re-tu-tu) . Stan and Jenny were fantastic hosts with Stan willing to ferry us around and made us feel extremely welcome. Perhaps the Anglo-Kiwi mix helped too, Stan is a Kiwi and Jenny English, although she's lived out there for over 25 years.
Stan and Jenny built the house 7 or 8 years ago and it has only two guest rooms meaning we had a lot of privacy. It was drizzling as we got off the bus but by the time we got up the hill to Wharetutu the sun had come out and so we jumped into the outdoor hot tub and relaxed and enjoyed the beautiful scenery.
The following day we had our planned excursion. We headed to the nearby town of Motueka and from there got on a tiny four seater plane which gave us a scenic tour of the National Park. We were a bit nervous but the pilot was really friendly and put us at our ease straight away. The views were fantastic and gave me a good perspective on the size of the park and its wonderful nature.
BEFORE: On the plane. Mainly scared but a tiny bit excited!
The pilot swung around and landed us in a small field and from there we walked through the greenery along a track for an hour or so to the beach. As it turned out we had about an hour to wait before a boat came in to pick us up for the next segment of the day. It was only Sue and me on the plane and the walk but on the boat we met up with a few Americans and an Aussie family.
We stopped next to an island with a big seal population and then carried on round the coast. Sue and I had a go in a two person kayak where I could actually get my feet in followed by a pleasant lunch on board the boat, the mussels being very good. Sue found it quite funny though that one of the Americans said it was the nicest bread he'd ever had and the skipper remarked it was from a local bakery; the packaging said New World, one of New Zealand's big supermarkets!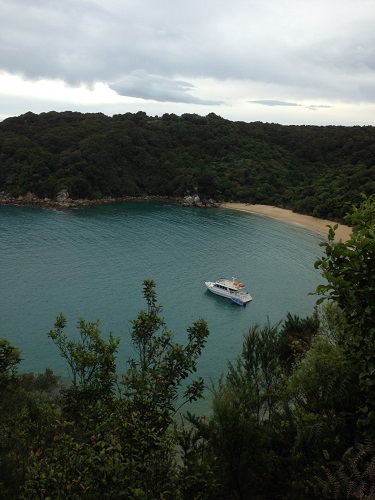 After lunch we went for a coastal walk with impressive views out to sea followed by heading back home. We were very lucky that the weather had been nice all day but as we were on our homeward leg the rain started coming down. Jenny and Stan recommended a nice restaurant called The Apple Shed on the Mapua Wharf. They booked us in and Stan very kindly gave us a lift there and picked us up afterwards. The Apple Shed specialised in sea food and we had a great meal. I always find fish to taste much better in the Southern Hemisphere for some reason. If you ever visit, try the "Salmon wontons with wasabi dipping sauce" absolutely to die for! (NB it's Sue for the last comment).
Sunday morning Stan took us back to Mapua Wharf and we hired some bikes and then took the ferry over to Rabbit Island. It's only actually about hundred metres across to the island and the ferry is more of a room on water. Again we were lucky with the weather and had a picnic and pleasant meander around before getting the ferry back and cycling back up a steep hill back to Tasman.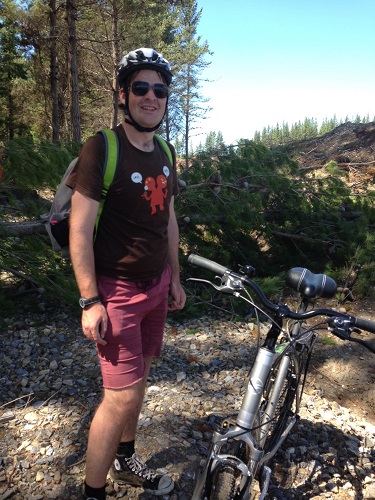 We grabbed a few things from The Store, the only shop in the village, and then tackled the extremely tough hill up to Wharetutu but proud to say I managed it. A jump into the swimming pool and the hot tub to ease those cycling muscles.
Unfortunately that was our last night at Wharetutu but our flight was early evening so we still had most of the day. We still had the bikes and so did a bit of exploring and then had lunch at Jesters  which won NZ's cafe of the year in 2013. Heading back up the hill for the final time, chatting with Stan, a shower and change of clothes and then we had to return to Nelson airport and back to Auckland for the last couple days of our time in New Zealand; but that's for the next update.