Back in April, we found out about a strong chess tournament that was going to be held in the Isle of Man. Now it's October and the first round starts today. The line up is impressive with Gawain being 7th seed. In the Masters the first prize is £6000 and the ladies 1st prize is £2000. There is an official website as well a facebook page with the latest photos and info. Unfortunately the press officer John Saunders had to pull out at the last minute but our friend WIM Fiona Steil-Antoni who should be a familiar face to most of you will be taking over. I'm sure she will do a fabulous job writing the reports and taking photos.
Gawain arrived yesterday after a slight plane delay. He also landed on the 2nd attempt due to stormy weather. But now the sun is out 🙂

I don't really know much about the Isle of Man. Geographically it looks to be halfway between Liverpool and Belfast.  It's not part of the UK but instead is a Crown Dependency. They have their own goverment, parliament and sim cards! The indigenous language is called Manx – only a small minority of the population are fluent. The official currency is the Manx pound but you can use the £s. Not sure what would happen if you tried the Scottish pound or the Northern Irish version!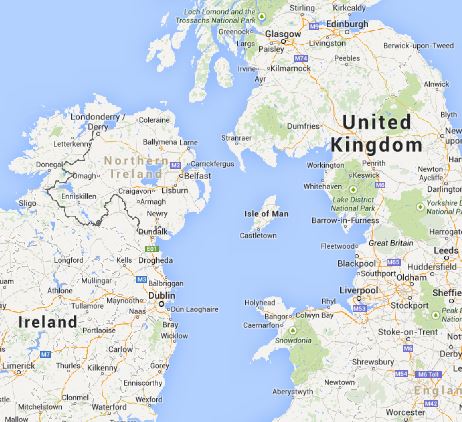 The 2005 British Chess Championship won by GMJonathan Rowson was held here. Gawain scored 6/11. Other than the British, I don't think there has been many tournaments held in the Isle of Man ( I may be wrong).
Yesterday there was the world's first poker/chess simul. WGM Jennifer Shahade played 3 chess games and alternate boards played poker! You can watch the video here. There was also a poker blitz tournament won by Baard Dahl from Norway who now lives in the Isle of Man. His grade is 188 and he beat GM Mark Hebden heads up in the poker. Mark was on fire with scoring 4/5 after drawing against Maxime Vachier Lagrave and Laurent Fressinet!
Live games are online after some teething issues. Gawain won his first round game against the Australian FM Chris Wallis. It looked pretty crazy to me!