It's summertime and probably the peak time of year if you are a chess professional. There are many tournaments all over Europe that can be so fun to play in. Last year we went to Ikaros and spent a lovely week there. Like last year, Gawain is now playing in the Politiken Cup held in Helsingor (of Hamlet fame) about an hour's drive from Copenhagen. I really love Scandanavia – the people are very friendly in general, speak great English and it's got an amazing cycling culture. This year the weather has been pretty cold (especially compared to last year when it was 30degrees+ everyday). If you didn't know Politiken is a Danish newspaper. The tournament so far has been really well organized. If you can check out the homepage you can see many free activities for players including lectures by top GMs. There's also simuls, blitz events and problem solving events. It looks like a fab tournament to bring your family to as you can take the ferry to Helsingborg (in Sweden), visit local parks and castles. I've only been here a few days and I think I'll already add it to my must do tournaments!
The venue is called Koventum which is about 2-3km away from the center. I cycled downhill this afternoon to pick up some groceries for the tournament. It's important to keep your energy levels up during the game (and be able to relax during the tournament).
Gawain in the first round faces a 22yo Swede. You can watch the live games here. The food at the hotel has been good (and I've been eating a lot of cake!).
We are really close to the body of water between Denmark and Sweden called Øresund. The bridge which links Copenhagen and Malmo is named after this strait. I've yet to explore Helsingor but might try tomorrow.
We were also lucky to stumble upon this "Slot" known as a castle in Danish/Swedish. Marienlyst Castle below is also the namesake of the local casino.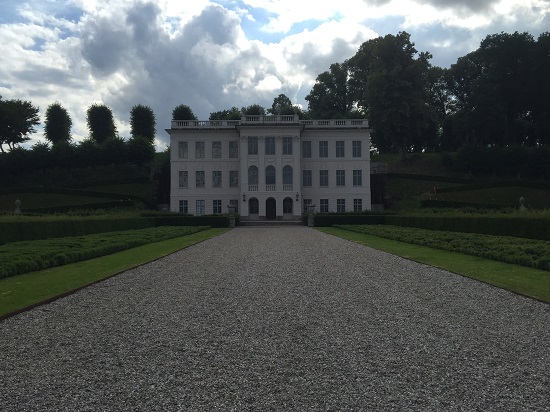 Anyway, it's nearly time for the All Blacks vs Springboks where my cousin is debuting at No.10! How cool is that? He's technically my nephew as the family connection is my dad and his grandmother are half siblings and therefore me and his mum are first cousins. In Cook Island culture that's extremely close!! I now have to find somehow to watch it, unfortunately I'm about an hour from Copenhagen (which has several venues to watch rugby) but here in Helsingor I emailed the helpful Irish Pub which isn't showing it as I don't think they have it on tele here.
Let's go Gawain & the All Blacks!