Sorry for the (very!) big delay in writing. It's Sue again so I'll try and be a bit more consistent with the updates. We've moved from the Southern Hemisphere and now are settling in Europe. The last month or so has been hectic with travelling and playing chess tournaments and now we've settled in one of our homes away from home in Northern Ireland before heading to the Big Smoke (London) to settle in and find a place of abode for Gawain.
So what has happened since then? Ga won Waitakere Open in Auckland as well as a rapid in Lower Hutt.. It's tough to remember I can't really remember much else.
Last month Ga played in the Heini Olsen Memorial tournament held in the Faroe Islands where he saw the locals cull of whales as well as walking the fantastic mountains and seeing spectacular views there in the town of Klasvik. He came 1st= in the tournament with GM Henrik Danielsen after losing to him. Up next was a few days of R&R with the family in Bolton and Stafford before flying from John Lennon Liverpool Airport to Pisa where we spent a few days in the Tuscan town where he lived for a few years. It's near Lucca which is a fantastic city that has walls built around it lasting from the Reinassance era. When in Nozzano Castello we just tanned (or Ga burned) by the pool but we also took strolls around the village and up to the Castle on the hill. There is a fantastic trattoria in Nozzano Castello called Il Borghetto which does a mean pannacotta and cheap as well! After spending a few days there we left to catch a train to Montecatini Terme which is a town famous for its baths. Montecatini is a fantastic place for a holiday – our hotel was a nice stroll through a park to the venue. The weather was mostly lovely  but there was a day when the clear blue skies blackened and a storm appeared.  Fortunately that didn't hinder our bike rides or a trip with the funicular up t Montecatini Alto. Gawain started out on form with 6/6 including a game where Ga managed to ground away and convert RN+5 vs RB+5 on the same side which turned into R+3 vs R+3. His last 3 games were a draw with an IM and 2 GMs to finish clear first with 7.5/9. I finished up with 6/9 beating a guy who broke away from the main club in Lucca to create a rebel chess club. Now Ga has hit his highest published rating which should be 2576 on the next list so getting to the goal of 2600.
We're now settling in London, England where I'll be working and Ga will be studying and playing chess. Unfortunately this means no coaching whilst we are there as the main focus will be on breaking the 2600 rating barrier.
Our next tournament will be the Chess Olympiad being held in Khanty Mansyisk, Russia from the 19th of September until the 4th of October.
Currently Ga is writing a book called "How to beat the Sicilian" for Everyman as well as doing his monthly Chess Publishing updates.
I hope to update you more often as I should get into a routine and be in contact with Ga whilst he is away at tournaments.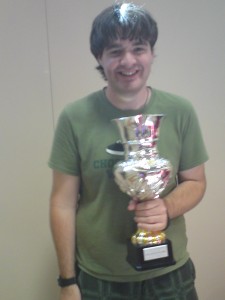 Gawain winning the Montecatini Terme Open A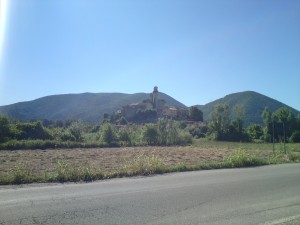 The village Nozzano Castello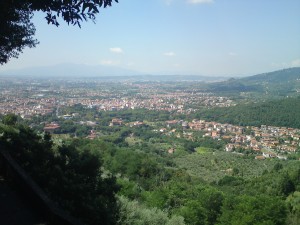 Montecatini Alto looking down on to Montecatini Terme
Ciao
Sue