After a lovely week in Malaysia we headed with my aunt and cousins to Yogyakarta on the island of Java. I was slightly nervous about flying there as I remember seeing in the news the Air Asia crash but my fears were unfounded. Occasionally I think about plane crashes when we are flying but I know the statistics say that you are more likely to die in a car accident – nevertheless I do think about it. We went to two very distinct places in Indonesia: the islands of Java and Bali. Java's population is 90% Muslim compared to Bali's population which is 90% Hindu. There are definitely more Western tourists in Bali especially Australians and the contrast is very stark. Every Indonesian we met was exceptionally friendly and helpful.
After arriving into Yogyakarta we spent the evening relaxing and trying to explore the local area. Unfortunately there weren't many pavements and a lot of high speed motorbikes so we weren't able to walk far but we found a couple of good coffee shops, so Ga could get his Kiwi/Aussie style coffee fix.
The next morning we started at 3am to head towards the Borobudur Temples for the sunrise tour. I was a bit scared when we got there as it was dark and there was an eerie feeling in the air with the call to prayer resonating in the hills surrounding this beautiful Buddhist temple. We unfortunately didn't exactly get a sun rise as such but it was still very beautiful scenery. Since we got up so early, I fell asleep in the car to wake up to torrential rain. We had planned in the afternoon to go on a jeep tour but now it wasn't possible so we headed back into the city to explore the centre. We were driver around to various museums, the Sultan's Palace (Kraton), and we tried Luwak coffee. Luwak coffee is quite tasty but also trendy and expensive. I think 100 grams was £20! But we bought a couple of bags as a token of  our visit. It rained for the rest of the day and my clothes got drenched running across the road for dinner.
In Indonesia it seems quite common for people to hire a driver for the day to take your around. There's a definite distinction between a driver and a guide so if you would rather the latter then I would enquire about having someone accompany you into the temples etc. Anton, our driver, was very friendly and flexible and came up with a good schedule for our couple of days in Yogya.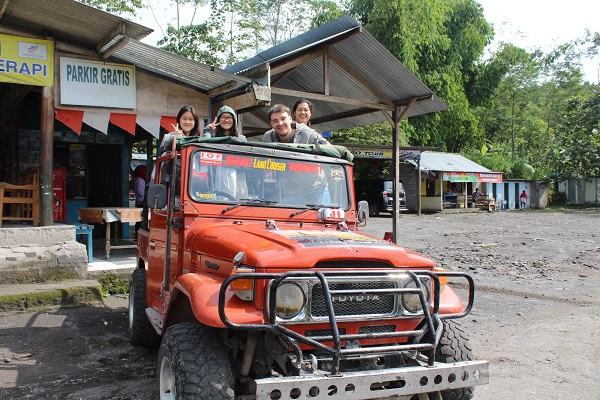 We went on a jeep tour on a volcano, which was very fun and the day was bright and sunny. Unfortunately Ga got sunburnt, I guess when your body doesn't have much sun for the preceding 5 months then you'll probably get burnt! I also got burnt on my shoulders. When we stopped at the last stop Gawain got asked for a photo from some Indonesian students – when they realised I was also foreign they asked me to be in their photo. I doubt they recognised us from chess but it was quite a funny scene to be in.
In the afternoon we headed towards Prambanan Temple another impressive Buddhist temple from the 10th century. All these buildings were so impressive to see.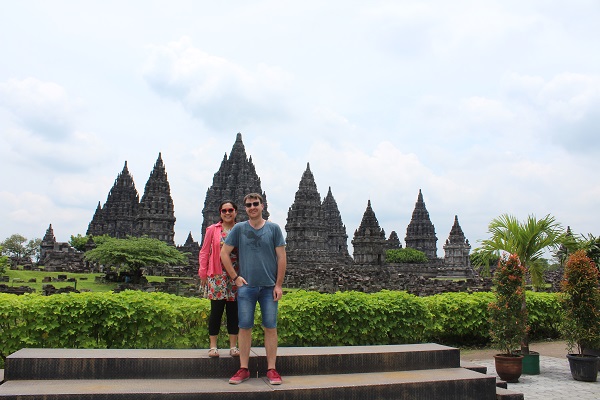 After our fun time with my family in Yogyakarta we went our separate ways. I didn't think that there would be much point in flying back to KL to head back towards the UK and I've always wanted to visit Bali so we headed East. I started to think, oh we aren't so far away from Australia and that's *fairly* close to New Zealand so maybe I could pop home but I quickly realised that it was still an 11 hour+ flight away, and we really didn't have the time to head back. Fingers crossed we can go back next year.
We stayed at Pondok Ayu which was amazing. It was a 10 minute walk to the beach but you needed to cross the main road. It's a small hotel with 5 rooms. You get to have breakfast on a communal table in front of the pool so you can get to know the other guests. You can get in house massages, facials, manicures & pedicures done by the pool! All the staff was so lovely and I hope we can visit again someday.
On our first day we went for a walk towards the beach and spotted some guys working/playing chess.They asked if we wanted a game but I told them we would come back later. 10 minutes later we returned and he said that we could play for a "donation", I cheekily asked them what happens if I won and he said that they would pay me. I sat down and we played without a clock, I managed to win the game and then he asked for a rematch. When I won the second game he offered to pay me but I didn't take his money. Ga also played their "teacher" who was about 2200 strength but with no openings and having not played any competitive chess that's very good. They were very excited when they found out he was a GM and would always say hi to us when we walked past.
When I say these guys were working, they were probably about 7 guys waiting for tourists to walk past and asking if they wanted to go snorkelling etc but if the tourists kept walking they would just play chess. That sounded like a cool job to me!
I had asked Fiona, who had just been to Bali, whether she knew anyone who could take us around and she told us about Made. We decided to do a day trip to the nearby Ubud. On a fully packed but fun day we started not so early and headed to watch a traditional Balinese play – it was very interesting and cool but full of tourists. Next stop we went to the waterfalls where Gawain invested £3 in a much needed hat (after I did some bartering).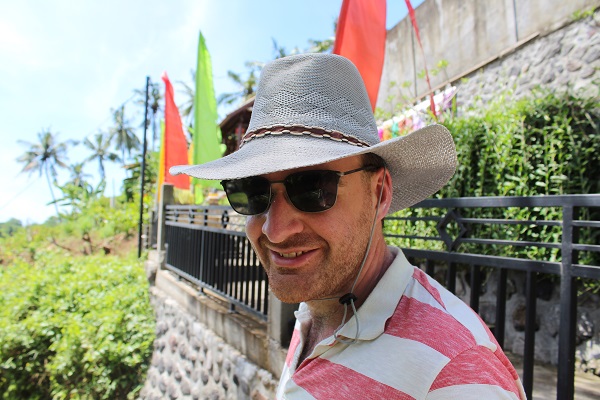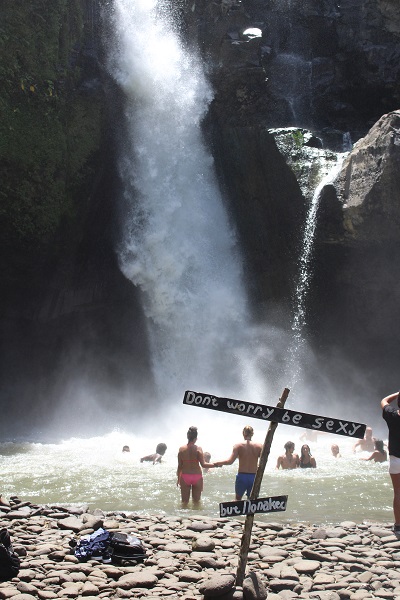 Unfortunately during the day I started to feel slightly unwell as I think the heat got to me so we had to take it easy . We went to see the Elephant Cave temple before having a refreshing drink by the rice paddy terraces. We then went on to Monkey Forest before having a delicious dinner at Made's restaurant.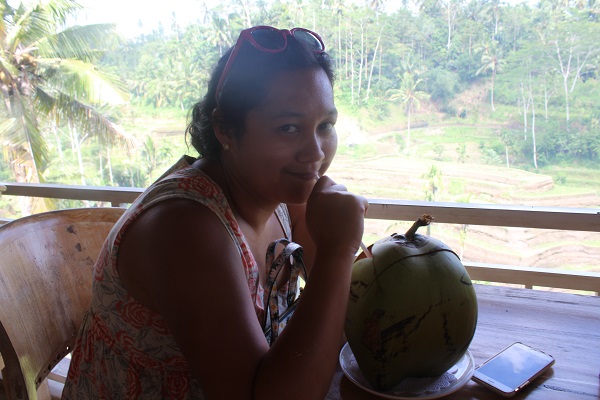 The next morning I signed up for an early morning cycle tour and I was so glad I did it. We booked our tour with Sanur Cycle tours which we would highly recommend and had Komang as our lovely guide. It was another early start but worth it when we went towards the beach and witness a beautiful sunrise.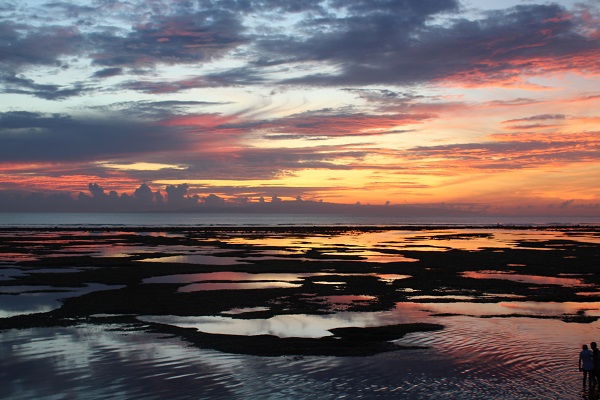 The pace of the cycling was easy and we managed to go towards the "Jurassic Park" which was a theme park that closed and nature now has taken over. It had a slightly eerie feeling and I was glad I wasn't exploring this place in the dark. It definitely seemed to have some health and safety issues with the amount of broken glass and slightly dodgy looking buildings but it was a cool place to check out. There are plenty of mosquitoes here!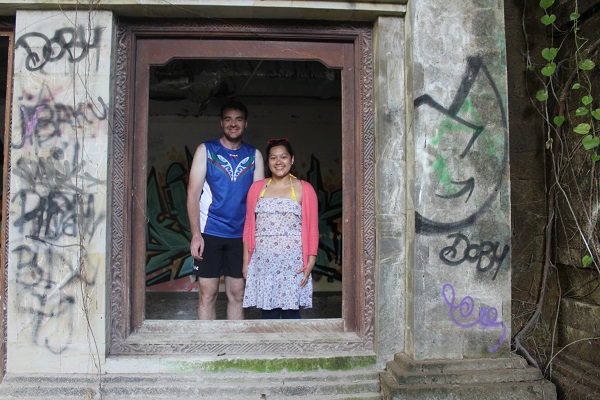 I also wanted to add a special mention to Warung Segar & Soul In A Bowl. These were our favourite places to eat. Warung Segar is run by Ryan (I think her name is) and has mostly Mexican food. Soul in a Bowl is where I ate my mac and cheese burger and was then so full I had to skip dinner! Both places had delicious food.
We had such a perfect relaxing break in Bali but we are both glad to be home now before we have to head out in about a week and a half to go to the UAE for Sharjah and the Dubai Open. I've also taken myself to Sheffield Ladies Rugby Club for training and had lots of fun so hopefully next season I'll be able to train and play more with the girls. We look forward this weekend to having Ga's parents Tanya and Martin visiting and watching lots of rugby!