Last week the London Grand Prix came to a close and the closing ceremony was not as spectacular as the opening ceremony held  at Somerset House but nevertheless it was a nice affair. There were rumours that Mr. Stephen Fry was going to attend and present some awards but that didn't materialize which was a pity as Gawain is a massive fan (we got to see an episode of QI last year with our flatmate IM Tom Rendle). The end of the tournament came around very quickly and chess wise I wasn't paying attention but will ask Gawain on his thoughst for his favourite game though of course it could have been played in São Paulo instead.
So after all the business of speeches and prizes we were left to drink, nibble and mingle (here with Tara McGowran)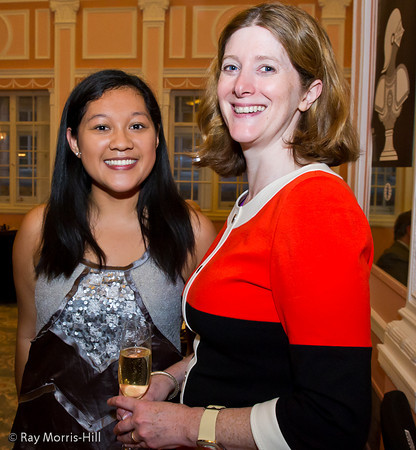 I was in the middle of quite an interesting conversation between GM Anish Giri, GM Peter Leko and Gawain. I'm not sure who brought up the thought first but it was discussed in some details of how as players they have personally struggled against another player who isn't necessarily stronger than them but nevertheless is a stumbling block. They all agreed that psychology is a very important factor and  quite underestimated as an influence in the outcomes of the game. This is the first time we met Peter but he was a very amicable and funny guy. He complained of how in the 1980s (me and Anish were born in the 1990s) he was way behind in theory as he didn't have the equipment and once when he went and did some training with Anand, Anand was very surprised to learn how young he was.  I was just amazed they did cross-continental chess training as these days it's hard to find training partners and if you do, Skype is cheaper. Peter also mentioned about his style of play and how everyone knew him as a draw king. With White he played defence and with black, double defence!
The stumbling block for players is a funny thing, I have played Sam Franklin, a talented 18 year old twice and have beaten him on two occasions and I believe he has +1 against Gawain from the 2011 4NCL Rapidplay. When Gawain was 2450, he struggled against 2600+ but as he grew stronger and managed to play them more, his confidence grew and his ability got better. The jump from 2600 to 2700 is great and even greater to the special 2800 group and it's a catch 22 situation as to which events you play to gain your points. In an ideal world everyone would play in round robins but there isn't enough places or money to fund these events so many players must play in Opens to make their living and beating 2300s is not always so easy but gains a 2650 1 rating point. Even by beating these players it wouldn't stabilize your rating and you need to then start beating the good guys on a consistent basis.
As Anish and Peter were saying… there's always someone better than you.