I feel like this is a subject I can write about. If you don't know much about my chess abilities then I'll start with the history of my chess career. I grew up in NZ and my dad Temu played chess and still does. He's about 1700 on a good day! I learnt relatively late aged 10 but I picked up the game pretty quickly after a fellow chess club player took pity on me when I dropped by the club whilst I was doing my homework. Soon after I had learnt I was lucky to play in my first Olympiad due to the 4th board dropping out! I was 11 at the time and going to Bled, Slovenia was an amazing experience. I mainly remember eating lots of cake and playing this game where you get blindfolded and you go around the room trying to find people (sounds kind of creepy but it's not!). Thanks to chess I was able to travel to so many new places and meet so many lovely people. Chess in NZ isn't taken so seriously, the main sport that dominates is rugby of course and so there was no real support for chess players. I never took my chess seriously. I never read any chess books and the only time I received coaching was during the Olympiad and even then I had such an incomplete repertoire. To this day I still struggled with notation (c3,c6,f3,f6 are pretty much the same squares to me) and when Gawain chats to other players about his game I struggle to follow. This is something that needs immediate improvement and working on my chess every day will definitely help this!
So how did I managed to get an IM norm and to 2100 without so much work? I'm of course very lucky to have Gawain as my husband for several reasons but his opening book is not the reason why I married him. It is so helpful having someone look at your opponent and point out the terrible line that they play and the refutation to it. I have quite a good (selective memory) so learning new openings on the day never puzzled me as long as I got the line I was looking for. These days I don't get so confused with move orders but it's now more about understanding the structures and what to do in them. I'm glad that I now have this opportunity to work on my chess before other things in life will take over so let's see what I can do! The norm I got in the 4NCL was a complete surprise to me as when my team captain emailed me to say he thought I could get a WGM norm especially if I played Board 7 against Guildford. That game I won nicely against Mark Hebden which meant I was then on for an IM norm which I got!
2017 has been a year of many tournaments. I've played in 4 9 round+ tournament so far including a Tienkampen in Wijk, Sharjah, Dubai and Reykjavik. My tournaments results have been mixed but I'm still over 2100 after a -80 loss in Sharjah and Dubai.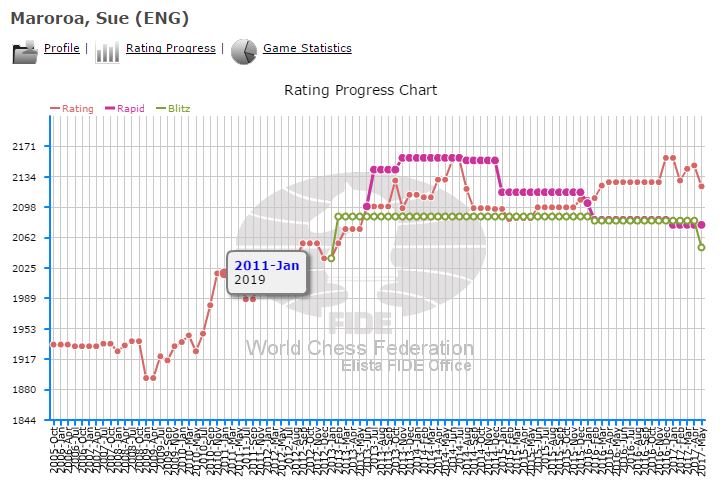 As you can see from the above chart, I tend to yoyo. Why? Well obviously I'm playing at different strengths at different tournaments and my aim to be consistent isn't working for me. I struggle against weaker players at time when I often force my opponents to find only moves (which they can normally find) and then I'm worst and fighting for equality! If I knew what I was doing so wrong I guess it would be easy to rectify but instead I'm back at the drawing board trying to figure out what went so right in Reykjavik.
Iceland is such a relaxing country to plan in (though some of the prices might make your heart rate go up). We have been there many times and it reminds me a lot of NZ – small country ,small capital, nice people. I definitely got into a better start in Iceland and that helps your confident so much. With a group walk in the afternoon and having lighter meals (small meals instead of buffet 3x a day) the little exercise we did and diet in my opinion made a huge difference. Strangely towards the end of the tournament I started to lose my appetite which for me is a big deal as I love to eat! We were also not really eating dessert (probably my favourite meal) which was a good thing. It's important who you play as some tournaments you may get "easier" opponents, ones that will suit you playing styles, openings etc and in this case I was often getting players who were trying to beat me which is always a nice thing. I managed to calculate, stay focus which is especially important in long games. The time control also suited me better as when we reached move 40, I could have a breather and a think. I really struggled with the time control in the UAE, I played way too slowly and when you don't really have openings that doesn't help. Non chess players struggle to comprehend how "one" could play for hours on end but my time always seem to disappear. For me to play good chess, I need to feel motivate and in a way on edge. I also know I'm playing well when I can "talk chess" and it's not a struggle, this also helps when I'm explaining my game (or trying to) and normally I struggle to remember the moves and where the pieces were. In a way talking about chess is like language fluency and at the moment I feel like I have basic conversational fluency.
In the UAE, I played many Indian juniors who were stronger than their ratings and playing underrated juniors is obviously difficult.These kids know how to play chess. I also lost the first few games in Sharjah due to jetlag. In an equal position I blundered the exchange and my position fell apart. I definitely felt towards the end of Sharjah and the beginning of Dubai I was starting to play more cohesive chess. Unfortunately towards the end of Dubai I finished the tournament with 3 draws against lower rated opponents after 15 decisive games. It was also strange that I drew so many games in Reykjavik (but against stronger players!) after not so many draws in my previous tournament.
Playing 31 games in the last 5 and half weeks have been difficult. It has been strange being away from home for so long especially when I'm such a homebody who likes my routine. You have to adapt to your new surroundings pretty quickly and it's not something I ever thought about when I had a 9-5 (or a 8-630). I'm of course very lucky I get to travel with Gawain and we can keep each other company on the trip, otherwise I think the chess life style can get a bit lonely. I'm glad to have played so much (and even happier that not all my games have been published). The lack of games on TWIC will hopefully help me and keep my opponents slightly at bay.
From my tournament in Reykjavik, I know I need to work on my endgames. I played a nice game against the strong Icelandic IM Bragi Thorfinsson and reached this endgame.
Now we have had some time at home to work on my fitness (important in general but especially keeping my stamina up) and of course my chess. We've started playing touch (like rugby but without the contact) and though it's tiring it is a lot of fun. We've also gone out on a couple of bike rides and managed to climb some hills.
When at home I like to have my chess board out and work through every variation, this can get difficult especially when it's rook endgames (and the squares get confusing) but I'm hoping that some of the information will seep in. Gawain will head to Belarus, Minsk in a couple of weeks to play in the (always strong) European Individual aiming for a qualifying spot for the World Cup. It's unclear if he's qualified for the ACP spot as Ivanchuk is currently above him in the standings but may have qualified by rating.