Gawain is at Bundesliga again, today he had a boring draw today against his last FIDE rated opponent from the Icelandic league (also a draw), Tomi Nyback who is the top Finnish player. Gawain is playing for Solingen who unfortunately lost today's match to Werder Bremen It was a very close match with the final score being 4.5-3.5 in Werder Bremen's favour.You can view the live games here.
Of course the Candidates are happening in London and Gawain and I plan to pop down so will try and write a report up about what we find.
If you didn't know, Gawain was about all day supporting Chess in Schools in Newham. It was an exhausting day with a 4am start heading over to East London and then ended with a fun party which finished around 11pm! We actually saw Luke McShane who has played for Werden Bremen for many years on Wednesday night at the launch party for East Village which supports Chess in Schools where Ga and Luke were deciding if they would play today but Luke didn't even know if he was playing 🙂
Here's a shot of us at the party and of Gawain with the Mayor of Newham.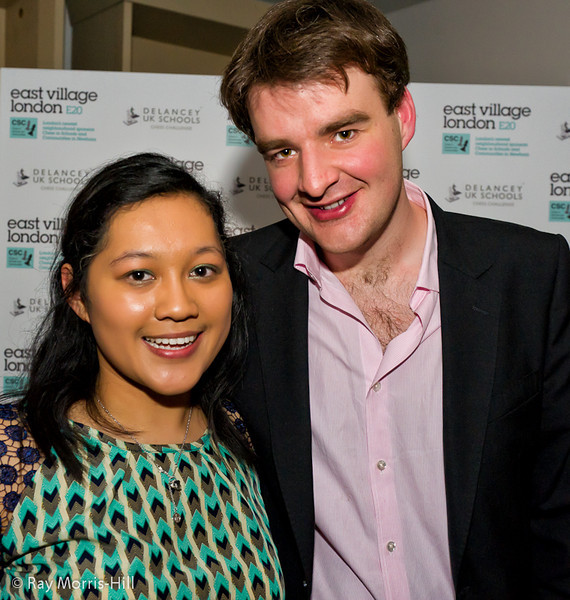 I'll get a report sorted asap about this event as we had a great day hanging out with the hardworking CSC team and Ga played some "games" against some celebs and pretty model people.