Due to coronavirus I've been home since the start of March with all leagues and tournaments cancelled. I've been spending my time writing my next book and playing online chess. I try to play in the Titled Tuesday events on chess.com each week, and am intending on playing in the online European Chess Championship that started on the 16th of May. My category starts on Friday the 29th May.
I did a couple of Banter Blitz sessions on chess24 and enjoyed it. There were a couple of complaints about the sound quality so I invested in a blue nano mic. As I had the hardware I thought I might as well try some streaming. I don't know how serious I'll end up being but I'll try to often stream when playing. Please bear with me as I iron out the teething problems, it's all new to me.
My official twitch stream is https://www.twitch.tv/verdenotte and I'll be playing on lichess and chess.com . Please follow me! Chess Streaming is quite big; Hikaru Nakamura was recently the number one daily streamer in English.
My good friend IM Tom Rendle offered to play a friendly eight game match against me to test my streaming. He was also streaming at the same time on https://www.twitch.tv/trendle. My positions were very ropey but I managed to win 5.5-2.5 somehow. I have no idea how many games Tom and I have played over our lifetime but comfortably in the thousands.
Friday 15th of May was my first live stream. I had 190 viewers which was great – there was a lot of competition at the time with the Steinitz Memorial over on chess24 and the ChessBrah Invitational on chess.com, as well as established streamers such as WIM Fiona Steil Antoni, IM Alex Lopez and  WIM Ellen Frederica all on at the same time. Sue, my wife helped me with setting up the channel and that took her quite a long time. There are quite a lot of technical aspects to help make your channel look good and it's definitely still a work in progress. For now I'll use all the different templates I can get before developing my channel and brand.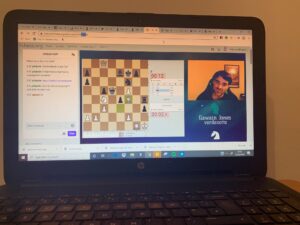 Please feel free to follow me on LiChess. If you want to watch the games I
played against Tom, you can find them here.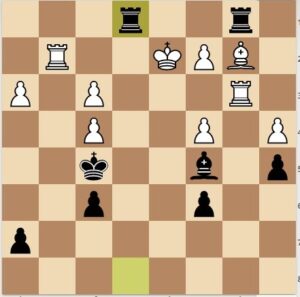 I got some feedback from various viewers so hopefully, this will help me improve the content,   visuals and sound during my stream. I think I had my mic on the wrong setting but hopefully fixed. I also had a couple of technical problems due to Virgin Media Broadband. With more chess online it's extremely important to have a reliable connection.
After my first attempt I played in the English Online Blitz Championship. I managed to get through the qualifying round the previous weekend and make it to the finals. It was a fun and exciting event with the youngsters dominating.
My thanks to Sue for  moderating the chat during my second livestream. Again there were a  few issues but hopefully I managed to rectify them for the Final.

The Final was a 16 players knockout, with each round being a best of four game. Players were seeded according to how they finished in the group stages. 
In the Last 16 I played another good friend, IM Peter Roberson. Pete is a very strong player but I managed to exploit his time trouble problems. In Game 2, I lost contact with the Chess.com server in a totally winning endgame. I guess the problem was due to too many people playing on chess.com. After a few phone calls with the arbiters it was decided to replay the game. I then went on to win that game and then the match 2.5-0.5.
In the quarter finals I played Aussie FM Sam Chow. He held me to a draw in my last over-the-board game back in February and pushed me hard here. After a draw in game one My opening went very wrong and I was left with a rook against three pieces. I managed to cling on and won the next two to go through to the next round.
The semi-finals were the end of the road for me. I played the strong English IM Andrew Horton who had also beaten me in the qualifying event. He played very well and was a well deserved winner of the match.
After that I streamed watching the armageddon match between Marcus Harvey and Ameet Ghasi. Someone in chat asked me if I would stream while playing an armageddon game and I don't see why not.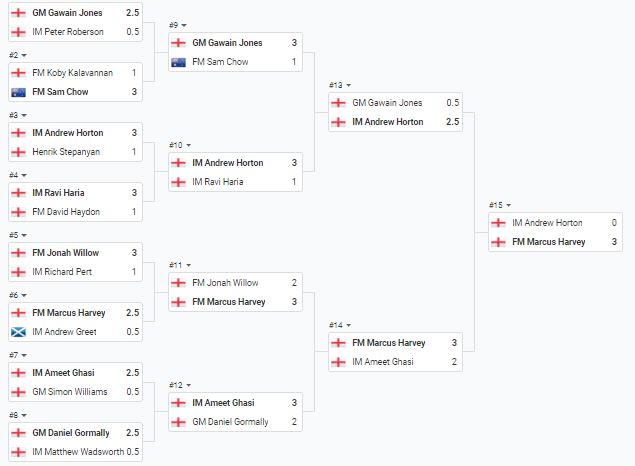 Many congratulations again to Marcus Harvey, a well deserved winner!
What kind of streamer am I?
I'll normally be relaxing in my office, and  you're likely to hear our dog Phoenix snoring in the background as she likes to be with me. In the evening I'm most likely drinking a craft beer while I play – combining two passions of mine.
What's next?
Sue is currently 37 weeks so our baby could come at any time. This weekend is the ECF's Checkmate Covid -19 charity event. This will be a 24 hour marathon of five-minute games played on chess.com supporting the British Red Cross. It'll start at 5pm on Saturday 23rd May. I'll aim to stream for a couple hours at the start and the end. Please do try and support the event.
The starting list for the European Online Chess Championship is here. They seem to be using rapid ratings which puts me down at 38th seed. Rapid is comfortably my lowest FIDE rating at 2609. The games will be played on chess.com. I'll see if the regulations allow me to stream during it. Of course there's a chance I'll be called away during both events.
I'm also writing for Quality Chess. It'll be a full repertoire with 1.e4. I'm attempting to avoid suggesting the most theoretical lines but still fighting for an advantage and my coverage will be (overly) comprehensive like my Dragon series. I'll announce more information shortly.